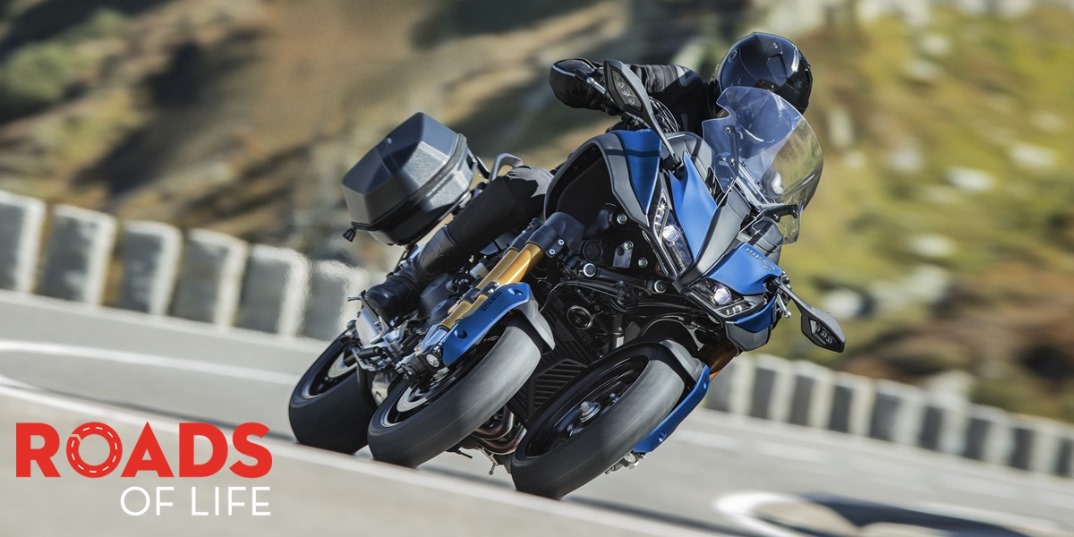 New 2019 NIKEN GT to expand the Sport Touring Segment
Opening the Roads of Life to every rider
Yamaha has always been committed to creating innovative and exciting designs that give the best possible choice. More than anything, motorcycling is about freedom, and Yamaha's goal is to make bikes that are ready to take motorcyclists to new places and make lasting memories on the Roads of Life.
With the addition of the NIKEN to the Sport Touring segment, Yamaha now has very distinctive and clearly defined model groups within this category – namely the NIKEN, Tracer and FJR1300 models. This diversity puts the company in the unique position of being able to offer the ultimate selection of 3-wheel and 2-wheel motorcycles that can satisfy every customer's need.
Yamaha is totally dedicated to making Sport Touring motorcycles more accessible to everyone with a 2019 line up that is wider than ever before. From the very affordable Tracer 700 and new Tracer 700GT, right through to the exclusive high end NIKEN GT, Yamaha has the power to open the Roads of Life to every rider.
NIKEN: Ultimate corner carving experience
In 2018 the launch of the radical NIKEN 3-wheel motorcycle brought a whole new riding experience tothe motorcycle world.
Equipped with innovative Leaning Multi-Wheel technology and dual tube upside down forks, the NIKEN is built to deliver the most amazing corner carving experience together with higher rider confidence in all conditions. With a larger contact patch between the tyres and the road surface, the two leaning front wheels give increased levels of front end grip that is particularly noticeable during cornering and braking, and it is this unique and dynamic characteristic of the NIKEN that makes it feel and handle like no other motorcycle.
Feedback from the public who have participated in the 2018 NIKEN Demo Tours across Europe has confirmed that this ground-breaking motorcycle is already winning over many motorcyclists who – quite understandably – initially viewed the whole 3-wheel concept with a degree of caution.
Those riders who have had a chance to evaluate this high specification 3-wheel Sport Tourer confirm its remarkable ability to corner with increased confidence even in adverse weather conditions, with many potential customers confirming that the NIKEN's handling has genuinely brought a new dimension to the Sport Touring segment.
The key to understanding the attraction of NIKEN is to ride it, and with the model now arriving at Yamaha dealers, those who have been unable to attend the European NIKEN Demo Tour can discover the unique 3-wheel riding experience for themselves.
When it comes to new or unfamiliar technology, many people – including motorcyclists – can often resist change and stick to what they know. But the NIKEN has shown that riding is believing, and with its proven ability to deliver the most exciting corner carving experience, this unique motorcycle is introducing a new era in Sport Touring design.
New NIKEN GT: Turns have no seasons
The NIKEN's 3-wheel concept has won over the vast majority of riders who have taken the time to opentheir minds and try something new. Designed to master adverse conditions, the NIKEN is ideally suited to all-weather, 4-season riding on the most challenging mountain roads.
Fitted with a range of special equipment, the new NIKEN GT brings added functionality to the 3-wheel concept by offering increased long distance touring capabilities together with elevated levels of rider and passenger comfort.
The NIKEN GT's higher screen gives greater upper body protection from the wind and weather, and the specially designed comfort seat enhances the sport touring experience for both the rider and passenger. Premium quality 25-litre ABS semi-soft side cases are light, compact and easy to handle – and for added convenience the rear of the carrier base features integrated passenger grips.
Heated grips ensure riding comfort in all weather conditions and keep the rider informed of the warmth level on the instrument panel – and there's also an extra 12-V outlet to power or charge various devices. The GT model also comes fitted with a main stand that facilitates convenient parking as well as routine chain maintenance and tyre inspections on longer trips.
With its innovative 3-wheel design and radically styled bodywork, the NIKEN is always going to be the centre of attention wherever it travels – and for added exclusivity the new NIKEN GT is offered in two new model-specific colours – Nimbus Grey with black front forks, and Phantom Blue with gold front forks.
NIKEN GT Exclusive Features
All-weather 4-season long distance Sport Tourer
High screen
Comfort seat
Heated grips
Semi-soft 25-litre ABS side cases
Rear carrier base with passenger grip
Main stand
Second 12-V DC outlet
Dedicated GT body colours and front fork finishes
NIKEN GT and NIKEN Key Features
Most innovative design in the Sport Touring class
Unrivalled corner carving experience
Feelings of front end grip, confidence and braking on all surfaces
Radical, bold and unique 3-wheel design
Advanced leaning multi-wheel technology
Deep lean angle, maximum 45 degrees
Ackerman steering, double upside down front forks
Fully adjustable rear suspension
847cc, 3-cylinder, liquid-cooled, DOHC CP3 engine
TCS, QSS, A&S clutch, D-MODE, Cruise Control
Hybrid steel and aluminium frame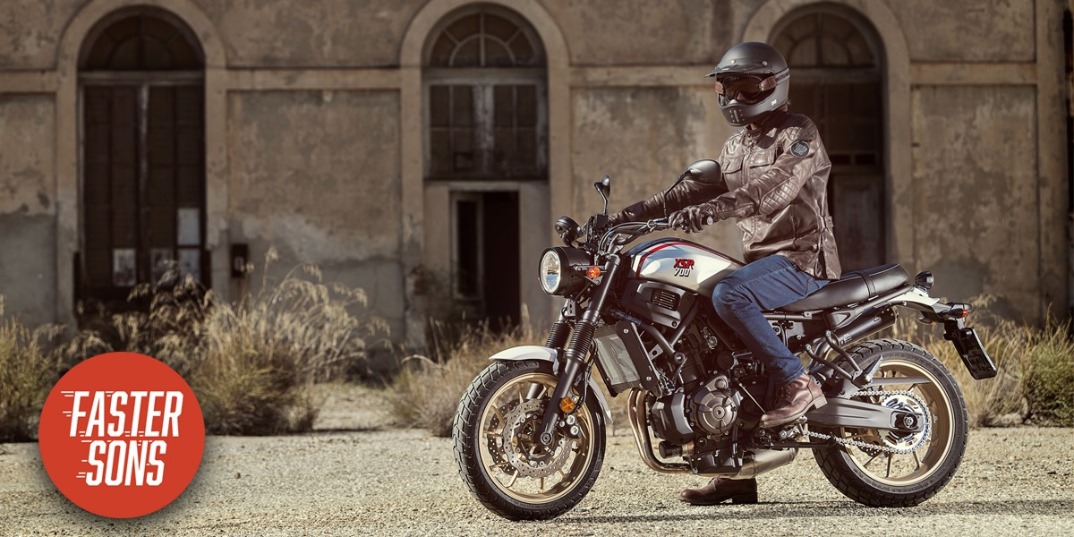 New XSR700 XTribute: Yamaha's retro Faster Sons scrambler
Born to be back again
Yamaha's Sport Heritage models blend timeless design and cool retro looks with the very latest technology. From the 2-cylinder XSR700 through to the 3-cylinder XSR900 and the XV950 V-twins, this diverse line up is specifically designed to enable and encourage riders of all ages to customise their bike to suit their own needs and style.
By fusing iconic style with cutting edge engine and chassis design, Yamaha's Faster Sons philosophy ensures that each bike in the Sport Heritage line has its own unique character and appeal – and this instils a special pride of ownership amongst the many riders who want a long term relationship with their motorcycle.
As soon as the XSR models were introduced they immediately caught the attention of Europe's top customisers, and in recent years Yamaha has collaborated with more than 60 projects to build unique specials based on Sport Heritage models. With its light weight, agile handling and emotional torque feeling, the XSR700 has become a favourite with custom workshops and individual riders who want to build scrambler specials. For 2019 Yamaha will launch a new version of the XSR700 that mixes the passion and flavour of an earlier era with the customisation trend of today.
New XSR700 XTribute: a modern homage to a 1970s icon
Over 40 years ago Yamaha introduced the XT500, an air-cooled 4-stroke single that went on to become one of Europe's best-loved motorcycles. The key to its success was simple design, useable power and all round versatility, and with its XT-inspired colours and classic scrambler looks, the new XSR700 XTribute respects the XT's true character and pays homage to this iconic bike.
This special combination of timeless good looks and modern technology perfectly illustrates the true spirit of the Faster Sons philosophy, and with its unique specification the XSR700 XTribute gives a new generation of riders the chance to celebrate the past, while at the same time benefitting from the very latest technology and an outstanding riding experience.
Retro XT inspired '1981' colours and graphics
From 1976 through to 1989 the XT500 was a major commercial success and sold in huge numbers all over Europe, and during its long production run this iconic model featured a number of bold and simple colour schemes. To celebrate the legendary status of the XT, Yamaha has chosen the most iconic silver tank, white mudguards and gold wheels for the new XSR700 XTribute – and even the indicators go back to the XT's original orange finish.
The new colour is appropriately named '1981' to celebrate the XT's golden era, and devoted Yamaha fans will instantly recognise this modern interpretation of a revered design – which features an XSR700 logo that is inspired by the legendary XT500 design – while younger riders are sure to appreciate the timeless retro looks that give this Sport Heritage bike a unique appeal.
Off road handlebars and chunky footrests
As well as its XT colour scheme the XSR700 XTribute adopts dirt bike style tapered handlebars that reinforce the urban scrambler looks. As well as providing a comfortable and upright riding position, these wider handlebars give increased leverage, making the bike easy to manoeuvre at slow speeds.
Other special features include the chunky off road style footrests that complement the ruggedscrambler character.
Block pattern tyres
<p.block high="" this="" the="" with="" and="" -="" handling="" to="" rear="" of="" roads="" for="" lightweight="" are="" dirt="" on="" grip="" is=""
Special flat seat and fork gaiters
Yamaha has developed a unique new seat for the XSR700 XTribute featuring a flat profile that respects the design of the original XT. Offering a modern, high quality finish and featuring a subtle XTribute logo embossed on the rear, this seat contributes towards the bike's characterful mix of old and new.
Every Yamaha Sport Heritage bike is designed with close attention to every detail – and the same is true on the XSR700 XTribute. Black rubber gaiters are fitted to the front forks to underline the whole retro feel, and the top of the fork tubes are enclosed within black plastic covers to give a clean and understated look to the front end.
Classic scrambler cool with modern technology
The real beauty of the XSR700 XTribute is the way that is combines effortless scrambler cool with modern technology. With its black engine, frame and forks set against the retro colours of the silver fuel tank, gold wheels and white mudguards, the impression of simplicity is reinforced, making this bike a fitting tribute to the original XT500.
<p.yet p="" at="" chassis="" this="" the="" with="" and="" -="" a="" gives="" of="" exciting="" its="" as="" time="" riding="" equipped="" is="" xsr700="" worlds.
Black instruments, controls and radiator covers
The retro theme runs throughout this great looking urban scrambler, and includes special black faced digital instruments that are located in a different position to the standard XSR700. Lightweight black frame guards and radiator covers are featured – and the black theme extends right to through the handlebar control levers and instrument bracket to give an understated look that focuses the viewer's attention on the strong retro '1981' colours.
Strong performance
At the heart of the XSR700 XTribute is Yamaha's outstandingly successful and highly regarded 689cc inline 2-cylinder engine whose crossplane philosophy design develops strong and linear torque. Delivering thrilling performance with excellent fuel economy, this is one of today's most highly regarded powerplants.
Light, compact and agile
Weighing in at just 186kg wet, the XSR700 XTribute is one of the lightest scramblers in the category. The steel backbone frame and compact chassis is one of the most agile and manoeuvrable designs in the class, making the XSR700 XTribute ideal for the city as well as giving an exciting ride on the open road.
Optional Akrapovic high-level black exhaust
Back in 1976 the very first XT500 featured a low header pipe with a high level muffler, and customers can replicate this look by fitting their XSR700 XTribute with the optional Akrapovic exhaust. With a black finish – like the original XT500 – this high specification 2-into-1 system gives a radical look and produces a gruff exhaust note – key features that complement the bike's scrambler character and accentuate the premium specification of this new Faster Sons model.
Key Features
689cc, CP2, high-torque engine
Compact and agile chassis
XSR700 inspired by the iconic XT500 from 1981
Special XT-style flat seat
XSR700 XTribute logo on tank and seat
Off road handlebars and chunky footrests
Fork gaiters
Pirelli MT60RS tyres for ON and soft OFF ROAD riding
Black finishing for levers and handlebars
Black LCD instruments
LED tail light
Radiator protector covers
Optional high level 2-into-1 Akrapovic exhaust with black finish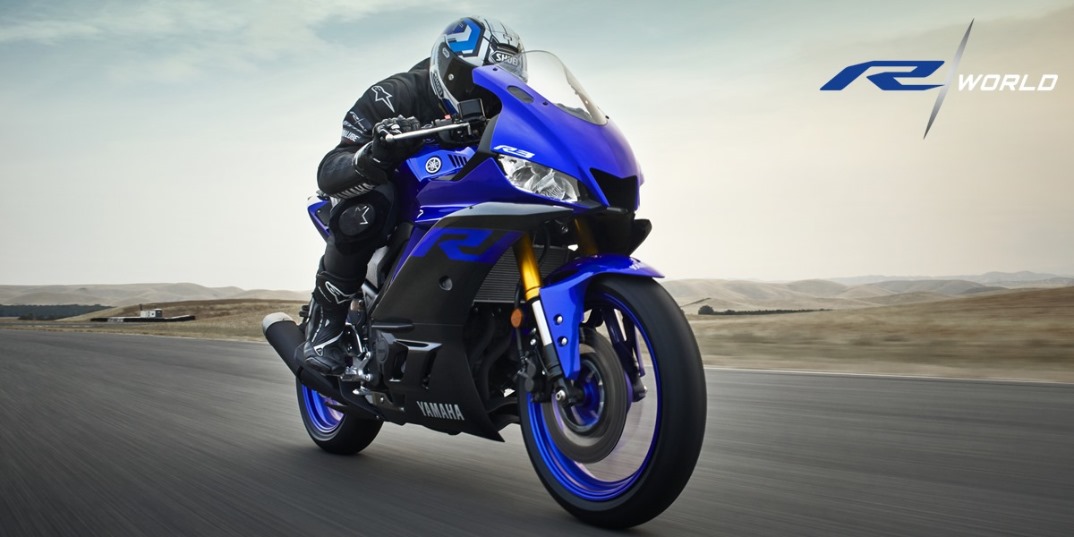 Radically styled new YZF-R3 is Yamaha's ultimate lightweight supersport
R-series: Supersport without compromise
2018 marks the 20 anniversary of the YZF-R1, surely one of the most influential motorcycles ever to be launched by Yamaha. Designed without compromise, the original R1 brought race bike engine performance and new levels of handling agility to the road rider, and introduced a new era in supersport motorcycle design.Yamaha's R-series supersport line has grown to include four class-leading motorcycles that have been developed using the same no-compromise philosophy that has made the YZF-R1 such an enduring success.
For 2019 Yamaha will introduce the new YZF-R3 that features a radical YZR-M1 inspired look together with a range of new performance-enhancing technology and refined ergonomics. Together with the recent announcement of the new YZF-R125 – as well as the latest YZF-R6, YZF-R1 and YZF-R1M – the R-series range is the most comprehensive line up of premium supersport models.
R World is calling
Yamaha has a rich heritage of building the most sought after Supersport motorcycles designed to deliver the pinnacle of performance on and off the track. From the rider-friendly YZF-R3 to the competition-focused YZF-R1M, the Yamaha R-series model line-up provides options for riders of all skill levels to experience thepure exhilaration of R World.
New 2019 YZF-R3
Powered by a 321cc, twin-cylinder engine that delivers excellent power for navigating cross-town traffic, carving twisty roads, or participating in a track day, the new 2019 YZF-R3 is a user-friendly lightweight supersport featuring Yamaha's race inspired R-series styling. With its accessible seat height and ergonomic ridingposition, the new YZF-R3 is the perfect bike for first-time riders or experienced sport bike pilots who prefer a compact, nimble and agile machine.
Renowned engine and chassis
A reliable 321cc, liquid-cooled, four-stroke, in-line twin-cylinder, dual overhead cam (DOHC), 4-valve, fuel-injected engine is at the heart of the YZF-R3. Featuring the latest combustion technology together with lightweight forged aluminium pistons and all-aluminium DiASil cylinders with an offset design, the smooth-running and quick revving YZF-R3 engine produces easy-to-manage power.
A lightweight high tensile steel tubular frame with a simple design incorporates the engine's crankcase as a stressed structural member of the chassis, resulting in the perfect balance of rigidity and weight. The long asymmetrical swingarm design ensures the efficient transmission of engine power to the rear wheel and deliversexcellent straight line stability, while the Monocross rear suspension system features a preload-adjustable KYB rear shock that gives stable damping and contributes to a mass centralisation of weight.
Combined with the all-new inverted front forks, an all-new triple clamp, 10-spoke cast aluminium wheels, a 298mm front brake disc with a floating twin-piston brake caliper, 32 degrees of handlebar steering range, a 780mm seat height and approximately 50/50 front-rear weight distribution, the YZF-R3 chassis delivers agile andresponsive handling.
All-new Inverted front forks and R-series type aluminium handlebar crown
To help achieve the right balance of comfort and sport riding performance for both street and track, the 2019 YZF-R3 features all-new KYB 37mm inverted front forks. Featuring a larger surface area between the outer and inner tubes than on conventional forks, the inverted design significantly improves fork rigidity, giving a sporty front-end feel and precise levels of surface feedback – while maintaining high levels of riding comfort.
Coupled with an all-new triple clamp that incorporates an aluminium handlebar crown with R-series styling, the new front suspension assembly works to provide the rider with outstanding handling during cornering and braking. The new inverted forks also enhance the overall specification of the 2019 YZF-R3 so that it more closelymatches the premium appearance of the larger R-series models, giving a heightened pride of ownership and true feeling of belonging to the R family.
New fuel tank design and lower handlebar position
The easy-to-ride character of the YZF-R3 is further enhanced for 2019 thanks to a new fuel tank and fuel tank cover design, along with a handlebar position that is 22mm lower. Fuel tank capacity remains at 14 litres, but the redesigned shape of the tank and cover (31.4mm wider above the knee area and 20mm lower at the fuel cap)helps to achieve a feeling of unity between the rider and machine.
From riding around town to being tucked in on a straight or banking over while apexing track corners, the ability to easily grip the YZF-R3 from multiple body positions allows the rider to take advantage of its full performance potential.
Aerodynamic new front fairing and screen design
The new YZF-R3 features a front fairing and screen design that pays homage to Yamaha's flagship MotoGP ® race bike, the YZR-M1, with an aggressive look that also achieves outstanding aerodynamic performance.
Developed in conjunction with wind tunnel and track tests, the new fairing and screen combination reduces aerodynamic drag by seven percent, enabling a decrease in air turbulence around the rider's helmet when in a tucked position, and giving an increase of up to 8 km/h in top speed. The YZR-M1 style central duct in the fairingalso functions to direct airflow to the radiator, contributing to engine cooling performance.
Additional new features
New YZF-R1 inspired dual LED headlights and position lights add to the aggressive look of the redesigned front fairing, and a new LCD instrument panel displays essential information that is easy to read at a glance.The lightweight 10-spoke wheels are shod with radial tyres, providing the YZF-R3 rider with the best possible grip in all riding conditions.
Key features
Ultimate Yamaha lightweight supersport
High-revving, 321cc, inline 2-cylinder, liquid cooled, DOHC, 4-valve engine
Compact and lightweight, high tensile tubular steel chassis
Radical new YZR-M1 MotoGP® inspired styling
New front fairing and screen gives up to 8 km/h top speed increase
YZF-R1 style dual LED headlamps and position lamps
Reshaped fuel tank and lower handlebars for improved sports ergonomics
New 37mm inverted front forks and Monocross rear shock
New multi-function LCD instruments with easy to read displays
Refined performance with outstanding reliability and excellent economy
Ideal 50/50 weight distribution for agile handling
R-series DNA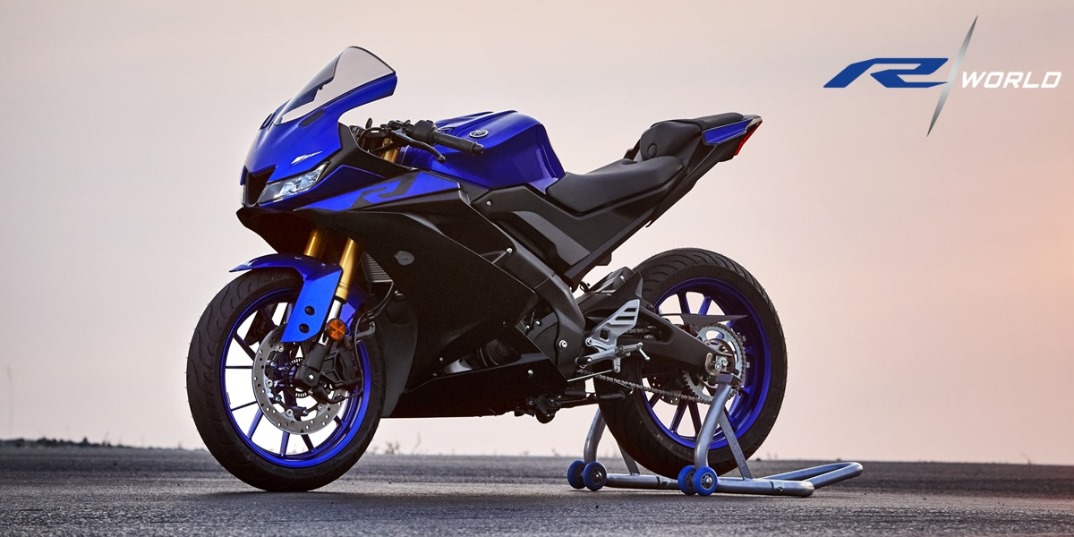 Re-define your reality
Exactly 20 years ago the first Yamaha YZF-R1 completely changed the face of the Supersport segment.Built without compromise to the highest specification and delivering the most exhilarating levels ofpower with outstanding agility and unmatched street presence, this seminal motorcycle created RWorld- and paved the way for the development of today's high-tech R-Series models.
With one of the widest selections of high-performance models covering the market from 1000ccthrough to 125cc, Yamaha's R-Series motorcycles continue to set the agenda. Aimed at thrill-seekingriders who are looking for class-leading performance on the street and track, each R-Series supersportbike delivers an adrenaline-charged ride every time, and is built to redefine your reality.
Featuring the most dynamic and exciting styling that has been created with R-series DNA, the all-newYZF-R125 is the most advanced 125cc supersport ever developed by Yamaha. Fitted with an all-newhigh-tech engine that gives stronger acceleration and a much wider spread of power from low rpmthrough to high speeds – while the new chassis and ergonomic layout delivers easy agility with highstability, while also enhancing the bike's everyday comfort and practicality.
Its aggressive YZF-R1 inspired looks include a racy and aerodynamic front fairing and MotoGPinfluenced cockpit design, giving this 125 a serious and extreme image that underlines its trackpotential – and with its premium quality finish and high-quality engine and chassis components, theall-new YZF-R125 is Yamaha's ultimate 125cc supersport.
All-new 125cc engine featuring a Variable Valve Actuation system
The Yamaha YZF-R125 is already widely known as one of the strongest performing models in the 125supersport class. For 2019 the liquid-cooled, 4-valve engine has been completely redesigned targetingmore torque and broader, smoother power while improving the fuel efficiency too.
One of the most significant pieces of new technology is the Variable Valve Actuation system (VVA)that optimises the valve position in relation to engine rpm. By giving idealised inlet and exhaust valveoperating characteristics at all engine speeds, VVA enables the YZF-R125 rider to experience strongertorque for better acceleration from low to mid rpm, combined with stronger performance at higherengine speeds.
The new engine also benefits from a redesigned fuel injection system equipped with a wider throttlebody that gives a smoother feeling for enhanced controllability. There's also a refined cooling systemthat reduces engine warm up time and improves cooling efficiency at higher engine temperatures -and this increased cooling efficiency allows for the fitment of a lighter and more compact radiator.
Higher combustion efficiency
As well as the installation of the power-boosting VVA system, the new engine features a completelynew 4-valve cylinder head that benefits from larger and shorter intake and exhaust valves. Yamaha'sengineers have also decreased the size of the combustion chamber, and the result is a much higherlevel of combustion efficiency that contributes towards the new YZF-R125's wider spread of useablepower and also helps to increase fuel efficiency. These developments also contribute to producing anemotional sound for the exhaust.
New Deltabox frame with optimised geometry
All R-Series models are renowned for their lightweight agility on the road or track, and the 2019 YZFR125chassis has undergone a range of major changes that are designed to underline this model'sstatus as the definitive 125 supersport.
<p.the p="" speeds.
Newly designed lightweight aluminium swingarm
The refined chassis now comes equipped with a newly designed lightweight aluminium swingarm thatcomplements the revised dimensions of the new frame. Manufactured using Yamaha's advancedcasting technology, this shorter swingarm ensures optimised rigidity with low unsprung weight for asporty, agile and comfortable ride.
Refined A&S (Assist and Slipper) clutch
To enable every YZF-R125 rider to experience the highest levels of controllability during braking andacceleration, the new model is equipped with a refined A&S clutch. New clutch springs give a lighterfeel at the lever for more comfortable and precise operation, while the design gives good driveabilitywhen accelerating and also prevents the rear-wheel locking during deceleration.
Sleek and aggressive YZF-R1 inspired body design
The looks and character of the new YZF-R125 have been shaped by the same dynamic R-Series DNAthat makes the YZF-R1 one of the most respected bikes on the street and track.
New dual full LED headlights and a YZR-M1 type front fairing underline the fact that this bike is anintegral part of the iconic R-Series family – and the premium finish is evident in the wide range of highquality components including the handlebar crown and painted front fender. Even the tail gets thefull YZF-R1 treatment, and the all-new rear end comes with race-bred air ducts and a 12-LED tail light.
New 11-litre capacity fuel tank
The sleek and sporty design of the new YZF-R125 inspired body is complemented by a new 11-litre fueltank that is designed to be easily removed when access is required during routine maintenance.Featuring beautifully-finished close-fitting external panels, the shape of this stylish new tank givesexcellent knee grip and allows the rider to adopt a range of positions to suit both low and high speedriding.
Redesigned MotoGP-inspired cockpit features
Every R-Series model can trace its heritage back to the race track, and as well as its pure YZF-R1 DNA,the new YZF-R125 also features a new lightweight handlebar crown design inspired by Yamaha's YZRM1MotoGP race bike. There's also a MotoGP-style brake lever protector, and the whole look and feel ofthe new cockpit illustrates this class-leading 125's race-bred genes.
New high-visibility LCD instruments
To reinforce the connection between the bike and rider, the newly designed instrument panel displaysa personalised greeting as soon as the ignition is turned on. As well as the easy to read central bar-typetachometer and large digital speedometer, this stylish and sporty multi-function LCD display alsofeatures a shift timing light, gear indicator and VVA status display.
More flexible riding position
Important changes for 2019 are designed to give increased levels of rider and passenger comfort. Newhandlebars with a more open and horizontal position are designed to give an idealised balancebetween the sporty riding and everyday comfort – while both seats have been redesigned and nowfeature thicker foam. These measures – together with the reshaped fuel tank and new aluminium rearset footrests – make the new YZF-R125 a more comfortable and practical bike without compromisingits thrilling supersport character.
Like the fuel tank, the lockable seat can be easily removed when access to the engine is required,making routine maintenance quick and easy.
New wider 140-section rear tyre
To optimise the increased overall performance offered by the new engine and revised chassis, the YZFR125is fitted with a wider 140-section rear tyre. Designed to give a good balance of grip and durability,this new 140/70-17 rear tyre offers improved stability together with better handling, and its wideprofile accentuates the aggressive looks of this 125cc supersport.
Improved brake feeling
The 292mm front disc and 230mm rear disc deliver strong performance with plenty of feedback, andfor 2019 this class-leading system is further refined by a revised brake hose layout and a new rear brakecaliper with different specification pads giving an even better braking feel and more control.
Key features
New 125cc engine with Variable Valve Actuation system
Increased combustion efficiency for smoother power
Revised Deltabox frame gives excellent rigidity
New aluminium swingarm for agility and stability
Lighter and more precise Assist & Slipper clutch
Sleek new R-Series body, twin-eye LED headlights
Newly-designed fuel tank with 11-litre capacity
All-new YZR-M1 MotoGP-inspired cockpit
Sophisticated new high-visibility LCD instruments
Improved ergonomics for enhanced riding position
Wider rear tyre for sharper roadholding and style
Refined and improved braking feeling
Ultimate 125 R-Series supersport