2022 HUSQVARNA MOTOCROSS RANGE LAUNCHED
SUBTLE REFINEMENTS AND STRIKING NEW LOOK FOR ALL FULL-SIZED COMPETITION-FOCUSED TC AND FC MOTOCROSS MACHINES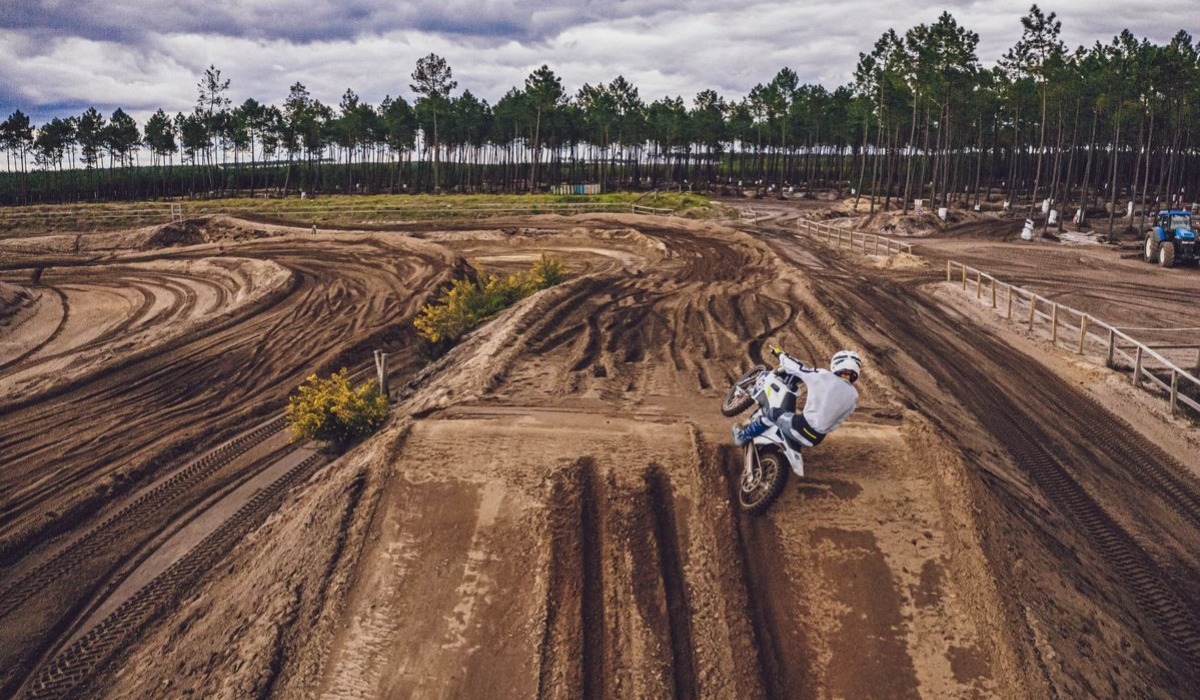 Delivering true motocross performance and adorned with Swedish-inspired dark blue and white graphics for a striking new look, Husqvarna Motorcycles is pleased to announce the launch of the nine-motorcycle strong, competition-focused 2-stroke and 4-stroke line-up. Developed to create superior riding experiences for racers of all ages, all models provide uncompromised power-to-weight performance, together with leading ergonomics and aesthetics, and exceptional handling.
Together with the new dark blue and white colour scheme, Husqvarna Motorcycles has improved the durability of all full-size TC and FC machines with each model now featuring a Brembo hydraulic clutch system. The high-performance component is thoroughly race-tested to guarantee even wear, near maintenance-free operation, and perfect action in all conditions.
Ensuring exceptional comfort and control, the 2022 motocross models are equipped with class-leading WP Suspension, which delivers precise handling to riders of all skill levels. Highly adjustable WP XACT forks with AER technology feature a capsulated air spring and pressurised oil chamber for consistent damping across rough terrain. Complimenting the forks, the low-friction seals on the WP XACT shock ensure optimal rear-end performance on all surfaces.
With exceptional power and superior handling, the TC line-up remains the racers' choice when it comes to 2-stroke machinery. Featuring compact, powerful, high-performance engines, the TC 125 and TC 250 machines are modern motorcycles designed to deliver pure intensity and incredible on-track experiences, in all conditions.
Engineered to stay ahead of the field, Husqvarna Motorcycles 4-stroke machines feature lightweight and compact engines that produce class-leading power and ensure incredible manoeuvrability, together with progressive and consistent suspension. Exclusive to both the FC 250 and FC 350 machines, for 2022 a new friction bearing on the counter-balancer shaft increases the durability of the high-revving 4-stroke engines.
Technical Highlights 2022:
New high-performance Brembo hydraulic clutch system guarantees even wear, near maintenance-free operation and perfect action in every condition
New Swedish-inspired dark blue and white graphics create striking new look
WP XACT forks with AER technology – optimal performance and light weight
WP XACT shock features low-friction linkage seals
High-grip seat cover texture
Progressive bodywork for optimal ergonomics
Chromium-molybdenum steel frame featuring precisely engineered flex characteristics
Innovative two-piece composite subframe design
Interchangeable airbox cover on FC models for optimised airflow
CNC-machined triple clamps
Brembo brake calipers and high-performance discs combining superior stopping power with great control and confidence
Traction and launch control with advanced settings (4-strokes)
Electric starter for easy starting when time is critical
Lightweight Li-ion 2.0 Ah battery
ProTaper handlebars
Progressive throttle mechanism and ODI grips allow for adjustable throttle progression and easy grip mounting
Laser engraved D.I.D. wheels
Gearboxes produced by Pankl Racing Systems
Husqvarna Motorcycles is proud to offer a full range of minicycles. All machines provide youth-specific ergonomics and user-friendly operation for aspiring future champions. Allowing youngsters to develop their skills in readiness for the full-size machines, the TC 50, TC 65, TC 85 and EE 5 deliver incredible performance and serious motocross fun.
Technical Highlights 2022 minicycles:
Unrivalled engine performance and rideability
WP XACT forks with AER technology – optimal performance and light weight
Confidence-instilling ergonomics thanks to a broad, flat seat and one-piece airbox cover
High-grip seat cover for comfort
Roller actuated throttle assembly for TC 85 – smoother throttle motion and improved durability
Formula brake calipers, clutch and brake assemblies for TC 85 – excellent stopping power and improved reliability
NEKEN tapered diameter aluminium handlebars offer optimised ergonomics for TC 65 and TC 50
Ensuring comfort, protection, and style, the Functional Offroad Apparel Collection provides a range of performance-focused apparel, for riders of all ages and abilities. With each product incorporating the latest material and construction technologies, the line-up also delivers protective equipment for both adults and kids.
The Husqvarna Motorcycles Technical Accessories range includes an extensive selection of engine and chassis upgrade options, for both 2-stroke and 4-stroke machines. With exhausts, suspension, brakes, graphics and many other products, the performance of the TC and FC motocross models can be further enhanced to meet the needs of all riders.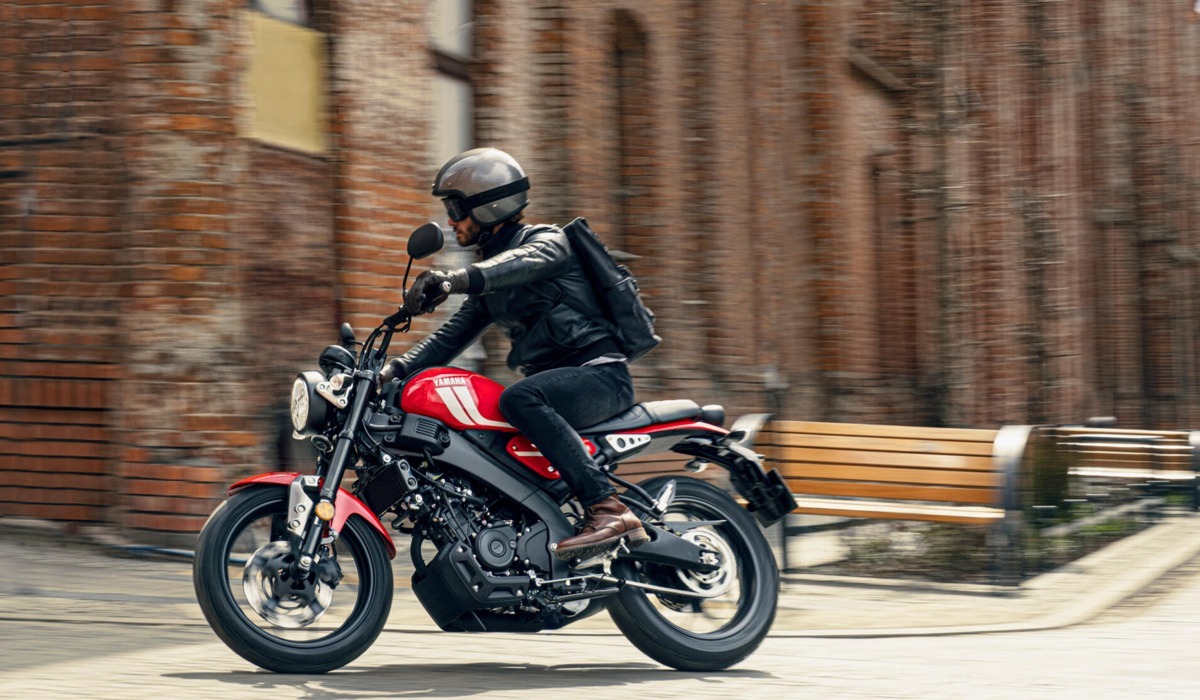 New XSR125: Timeless design for the modern commuter
The youngest Faster Son Born for free spirits
Designed for those riders who appreciate the seamless combination of true heritage design with timeless neo-retro looks and up-to-the-minute technology, Yamaha's Sport Heritage models are truly in a class of their own. With a unique character and everlasting appeal, every XSR model is designed to deliver not just an outstanding riding experience, but to enable its owner to underline their individuality and express their personality.
Yamaha's Faster Sons philosophy is inspired by the past while looking firmly to the future, and it is an approach that strikes a chord with those free spirited riders who like to do things their own way. The whole Yard Built scene has been inspired and encouraged by the Faster Sons movement, and over the past 6 years the most respected custom builders from Europe and beyond have created many radical and thought provoking machines using a Yamaha Sport Heritage model as their starting point.
With the current Sport Heritage range headed by the flagship 3-cylinder XSR900, closely supported by the 2-cylinder XSR700, the time is right to introduce a new model that will open up the Faster Sons way of life to a whole new audience. Designed and built to the same high quality standards as its older siblings, the XSR125 offers younger riders the opportunity to experience the unique riding experience and pride of ownership that comes with every XSR – and with its premium build quality and proven Yamaha reliability, customers can be sure that this is a machine that will not let them down, and will retain a good used value.
All-new XSR125: Commuting in style
Commuting is about to become a lot more fun with the XSR125. Built to a high standard specification that includes Yamaha's top-of-the-line engine as well as an agile handling frame – and featuring state-of-the-art technology seamlessly intertwined with timeless heritage style – this new lightweight is the youngest member of the Faster Sons family. And like many younger siblings, this bike is ready to make its mark and is ready to impress.
With its strong retro-inspired colour schemes, exquisite detailing and first class Yamaha build quality, this is a bike that demands to be noticed wherever it is ridden. Unlike some other models in the class that prefer to keep a low profile, the XSR125 is the kind of bike that makes a strong statement, and has the performance, technology and style to back it up.
Light, agile and fun
This new motorcycle has been designed to be light, agile and enjoyable for everyday riding – making it the ideal choice for a wide range of B1 license car drivers* looking for an alternative to four wheels, as well as for existing riders with an A-license who appreciate the XSR125's outstanding value and impressive specification.
Those riders who may be completely new to motorcycling will be reassured by the comfortable upright riding position as well as the smooth suspension and easy, lightweight handling – and both new and existing riders are going to appreciate the fun-loving nature of Yamaha's newest Sport Heritage bike.
* Limitations and restrictions may apply per country under applicable local laws
Pure and timeless XSR styling
Just like every model in the Yamaha Sport Heritage line up, the XSR125 features a bold line up of colours that are influenced by some of Yamaha's legendary models from a bygone era.
Featuring a strong horizontal motif, the Redline, Tech Black and Impact Yellow colour schemes combined with features like the rounded tank, long flat seat and circular headlight give this new 125 a bold and unique look that underlines its Faster Sons DNA – and just like the XSR900 and XSR700, the new XSR125 pays homage to the past, while looking ahead to the future by featuring the very latest technology including full LED lighting as well as an LCD meter.
Best-in-class 125cc 11kW engine
The XSR125 is driven by a responsive 125cc 4-valve liquid-cooled single-cylinder EU5 engine that is the same design as the unit used on the extremely successful MT-125 Hyper Naked and R125 Supersport models. This sophisticated and highly reliable powerplant produces a full 11kW, the maximum permissible in the A1 licence category, making it one of the strongest performers in the class.
One of the significant technological features on the XSR125 is Yamaha's Variable Valve Actuation (VVA) system that enables the engine to produce plenty of torque at lower engine speeds together with excellent performance at higher speeds. The result is a bike that is easy and enjoyable to use around town, and as well as being able to deliver an exciting ride on the highway – and the whole riding experience is made even more enjoyable and rewarding by the beautifully-tuned exhaust note that brings out the strong character of the single-cylinder engine.
Being fully EU5 compliant, the XSR125's low emissions enable it to be ridden in those city centres where increasingly strict air quality regulations may apply, making it an ideal commuter.
37mm USD front forks
n order to achieve first class roadholding together with responsive handling and an easy and enjoyable riding character, the XSR125 is equipped with 37mm USD front forks. Featuring a black finish that complements the bike's timeless Sport Heritage character, these smooth-action forks play an important role in making this affordable commuter such a comfortable and nimble performer in different riding situations. This USD front end also underlines the XSR125's premium overall specification at the same time as being one of the most affordable models in the quality 125cc class.
Stylish block pattern tyres
Yamaha's Sport Heritage bikes are inspired by the past and built for the future, and the XSR125's chunky block-pattern tyres emphasise the bike's timeless good looks while providing high levels of traction. The combination of a wide 140/70-17 rear tyre and 110/70-17 front tyre together with lightweight 10-spoke alloy wheels ensures low unsprung weight for responsive suspension action, giving a confident riding character with easy and predictable handling, making this an ideal choice for first-time motorcyclists.
High-tech LED headlight and LED taillight
Another example of the affordable XSR125's first-class specification is the fitment of sophisticated LED lighting. The full LED headlight features a classic shaped circular shell that epitomises the bike's unique blend of classic styling with up-to-the-minute technology, while the compact LED taillight underlines the bike's agile and lightweight appearance.
Strong and light Deltabox frame
The chassis features Yamaha's advanced Deltabox frame design with twin spars that run in a straight line from the steering head to the swingarm pivot to create an extremely strong yet lightweight chassis. Featuring a compact 1330mm wheelbase and accessible 810mm seat height, the XSR125 chassis is designed to accommodate riders of varying sizes, while the upright riding position and relaxed ergonomics make this lightweight Sport Heritage bike ideally suited for riders with an A1 licence who are looking for a more enjoyable, effective and economical way to get into and around the city.
Premium details
Few other models in the category are able to offer this level of affordability combined with such an impressive specification, and premium details can be seen throughout the bike. In addition to the previously described USD forks, LED headlight and LED taillight and full power 125cc 11kW VVA engine, this lightweight Sport Heritage bike is equipped with a wide range of attractive features such as a tuck and roll seat, painted mudguards and aluminium brackets that highlight the attention to detail that makes this bike stand out.
Circular LCD meter
Every detail on the XSR125 is designed to be true to the Faster Sons philosophy that sees timeless design blended with modern technology. The circular LCD meter is a perfect example of this approach, and it features a satin black body featuring a circular LCD meter with a bright chrome surround. The negative LCD meter displays clear and easy to read information, while the neo-retro look perfectly complements the round headlamp, painted mudguards and heritage colours and graphics.
Key Features
Best-in-class 125cc 11kW EU5 Engine Timeless neo retro design
37mm USD front Forks Comfortable riding position Lightweight alloy wheels Stylish block-pattern tires
Classic circular LED headlight and LED taillight Light and strong Deltabox frame
Agile, easy and conident handling Painted mudguards
Tuck and roll seat Aluminum brackets
Retro-style circular LCD meter
XSR125 colours, availability and price
The XSR125 colour schemes feature a strong horizontal motif that reinforces the timeless design and gives this model a pure look with a universal appeal. Three colours will be available: Redline (VRSK); Tech Black (MDNM6); and Impact Yellow (CPY), each of them featuring colour coordinated painted front and rear mudguards, dual-stripe tank graphics and sidepanel logos.
Deliveries to European Yamaha dealers will commence in June 2021. Prices vary per region, so please contact the national Yamaha distributor for full information.
Yamaha Genuine Accessories and Faster Sons Apparel
Yamaha has developed a wide range of Genuine Accessories that enable the XSR125 owner to easily personalize their motorcycle. Two Genuine Accessory kits will be available – the Racer Kit that consists of a headlight cover, front number plate and side number plate, as well as the Urban Kit that features a flyscreen, aluminium engine side cover, radiator side cover and side cover.
Customers can order the kits before collecting their new XSR125, and have them fitted by their Yamaha dealer. All of the items in the kits can also be purchased individually, and in addition to the kit items, the genuine Accessory list for the XSR125 also includes an Akrapovic muffler; license plate holder (LPH); undercowl side cover; café racer cowling, café racer knee pads and more.
Developed to complement the Sport Heritage range of motorcycles, Yamaha's Faster Sons apparel line includes stylish T-shirts, jumpers, leather jackets, baseball caps, patches and more that are designed to match the timeless looks of the XSR.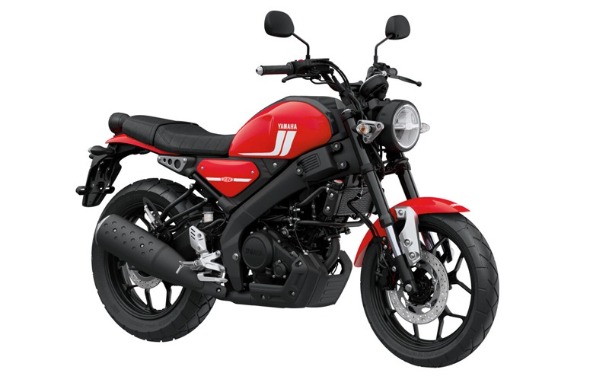 THE GATE DROPS
NEW 2022 MOTOCROSS RANGE LAUNCHED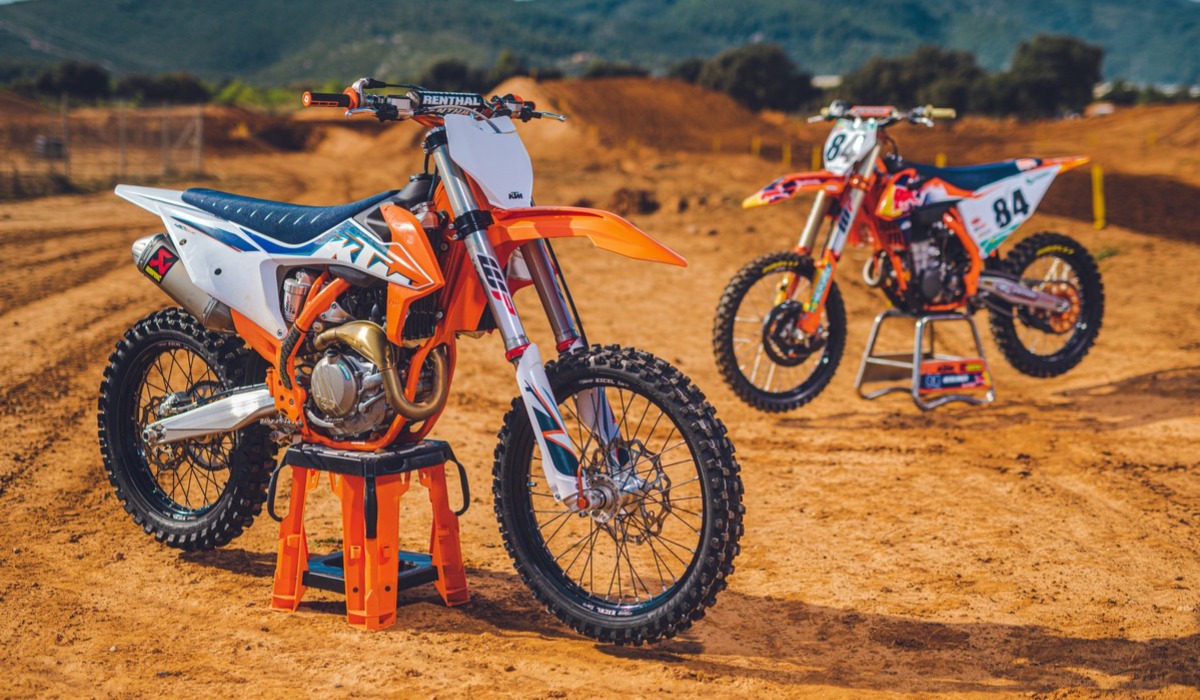 After decades of seamless flow of information from the race paddock to KTM's production line, the complete 2022 KTM SX range is closer than ever to the bikes that are winning titles. Engineered on the racetrack, and perfectly meeting KTM's superior standards for performance in their updated 2022 livery, the new models are the absolute reference for Motocross and Supercross competition worldwide.
Built for those who know the importance of a solid technical base, the KTM SX-F model range is the choice of winners. The 2022 4-Stroke range includes three models that take advantage of KTM's considerable gains in the segment featuring the latest WP XACT suspension technology and advanced tech solutions including Traction Control, Launch Control, variable engine mapping and reliable starters.
The purest definition of advanced motorcycle technology, the 2022 KTM 450 SX-F is an extremely compact package that produces an unrivalled 63 hp in the most effective way possible. The KTM 250 SX-F features unmatched outright speed in a class that pushes the boundaries of performance and the KTM 350 SX-F ideally mixes 250 agility with even more engine grunt.
Building upon a legacy of class-leading performance for aspiring and experienced racers alike, the new 2-Stroke range includes three distinct models. A benchmark in the division, the KTM 125 SX is the development of the bike that occupied seven of the 12 top spots in the 2020 EMX125 European Championship. In its updated 2022 trim, the KTM 150 SX can battle with the potent 250 4-Strokes, while the KTM 250 SX is a 2-Stroke powerhouse with the same light feeling.
All full-size 2022 KTM SX models introduce a frame finishing coated in racing orange to further reinforce the proximity to the championship winning machines of the Red Bull KTM Factory Racing stars. The updated frame aligns perfectly with the new blue seat cover and the fresh colors in the graphics to emphasize visually the close link to KTM's Factory machinery.
Complementing KTM's 2022 SX range is a series of Sportminicycles that share the exact same race-driven development approach as KTM's full-size Motocross bikes. Junior riders that climb on any of the KTM 50 SX, KTM 65 SX and KTM 85 SX models can do so knowing that they are experiencing class-leading performance, state-of-the-art WP suspension, high-end brakes and minimal weight. For tech-savvy riders, the wheels can start rolling with the 2022 KTM SX-E 5, the latest incarnation of a high-end electric mini-crosser that can grow together with the young rider on it.
Joachim Sauer – KTM Product Manager Offroad: "The new SX range is all about the proximity to our race machinery, and the bikes that are doing the business on racetracks around the continents. We've been refining these packages for several years and we feel the connection, both aesthetically but also in terms of performance, is now closer than ever. To prove our point, we gave production bikes to MXGP and MX2 World Champions and I'm glad to confirm they were surprised and impressed with their performance. It was fitting to give the 2022 models an even 'racier' look with the blue and orange design and to remind riders and fans that there isn't a more READY TO RACE motocross range in any paddock anywhere."
Trying out the 2022 KTM 450 SX-F and KTM 125 SX production models, Red Bull KTM Factory Racing stars and distinguished FIM Motocross World Champions Jeffrey Herlings and Tom Vialle logged impressively competitive lap-times. They both share their unbiased feedback in this video.