OUTPERFORM THE COMPETITION
WITH HUSQVARNA MOTORCYCLES' 2023 FC 450 ROCKSTAR EDITION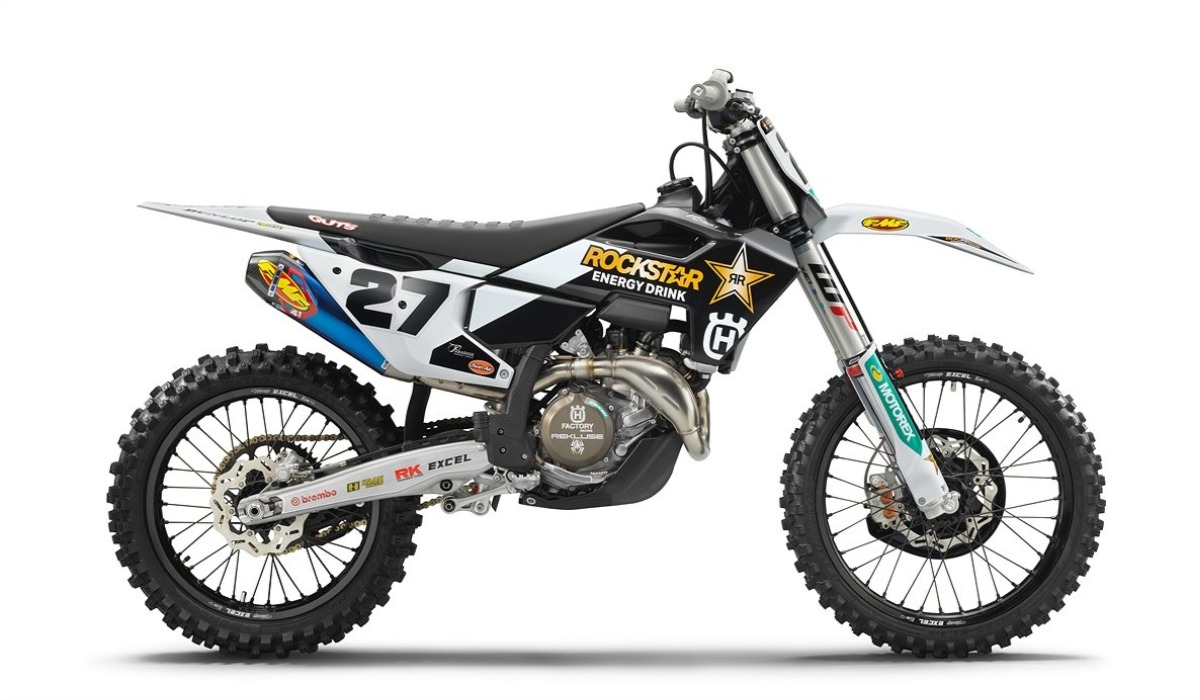 Husqvarna Motorcycles is pleased to announce the new FC 450 Rockstar Edition. A proven model that is continually evolving, the latest version is enhanced by a selection of race-tested components to provide all motocross riders with a competitive edge.
The latest factory team replica machine is equipped with a new silencer, wheels, protective parts and revised suspension settings, which give riders of all abilities a definitive on-track advantage. Retaining its class-leading performance, the FC 450 Rockstar Edition is finished with the latest Rockstar Energy Husqvarna Factory Racing graphics.
Revised shim stack settings inside the WP XACT 48 mm front forks and XACT rear shock enhance the balance of the FC 450 Rockstar Edition to ensure improved stability at high speed without effecting its proven cornering agility. This considered refinement boosts self-confidence, allowing all levels of riders to master the racetrack with complete confidence while consistently posting faster lap times.
All riders can easily customise how the 450cc SOHC engine performs depending on either their preference or track conditions by using the handlebar-mounted Map Select Switch. The intuitive, multifunctional instrument houses clearly marked buttons to engage one of two pre-set engine maps, activate launch control and traction control, and enable Quickshifter for seamless upshifts, even when under heavy load.
The FC 450 Rockstar Edition is expertly assembled and comes complete with an extended list of competition-focused Technical Accessories. Adjustable Factory Racing triple clamps, an FMF Racing Factory 4.1 silencer, and Factory Racing wheels headline the hardware with a Factory Start device, GUTS Racing high-grip seat cover, ProTaper handlebar and soft ODI grips offering assured comfort and control.
2023 Technical Highlights
New Rockstar Energy Husqvarna Factory Racing graphics
New Factory Racing wheel set with EXCEL Takasago rims and black anodised CNC machined hubs
New FMF Racing Factory 4.1 silencer
New 2K Carbon composite skid plate for extended engine and frame protection
New 2K Carbon composite front brake disc guard for added protection
Updated suspension settings for improved balance and comfort
Bodywork designed to encourage easier rider movement on the motorcycle
Hydro-formed chromium molybdenum frame for improved anti-squat behaviour
Die-cast aluminium swingarm provides strength and flex at a low weight
450cc SOHC engine provides class-leading performance
Quickshift functionality ensures seamless up-shifting
High-performance Brembo hydraulic clutch system
Aluminium-polyamide hybrid subframe construction provides specifically calculated rigidity and advanced durability
WP XACT 48 mm front forks with AER technology offer more progressive end-of-stroke damping
WP XACT rear shock designed with CFD optimised main piston and tool-free adjusters
Multifunctional map switch which activates the Quickshifter, traction control, and launch control
Factory Racing CNC-machined triple clamps with adjustable offset [20 – 22 mm]
Pre-installed Factory start device
Soft, grey ODI lock-on grips for comfort
GUTS Factory Racing high-grip seat cover
Premium-quality ProTaper handlebar and bar pad
Electric starter powered by a lightweight Li-Ion 2.0 Ah battery
Ensuring all riders are fully equipped for their next event, a concise, high-quality selection of race-team inspired casual clothing has been created. With two styles available within the range of t-shirts, hoodies, jackets and headwear, riders can choose to express their passion for Husqvarna Motorcycles or replicate the same pit presence as Rockstar Energy Husqvarna Factory Racing.
The 2023 FC 450 Rockstar Edition will be available in limited numbers from January 2023 priced £10,870.
MASTER THE TERRAIN
2023 701 ENDURO AND 701 SUPERMOTO MODELS AVAILABLE NOW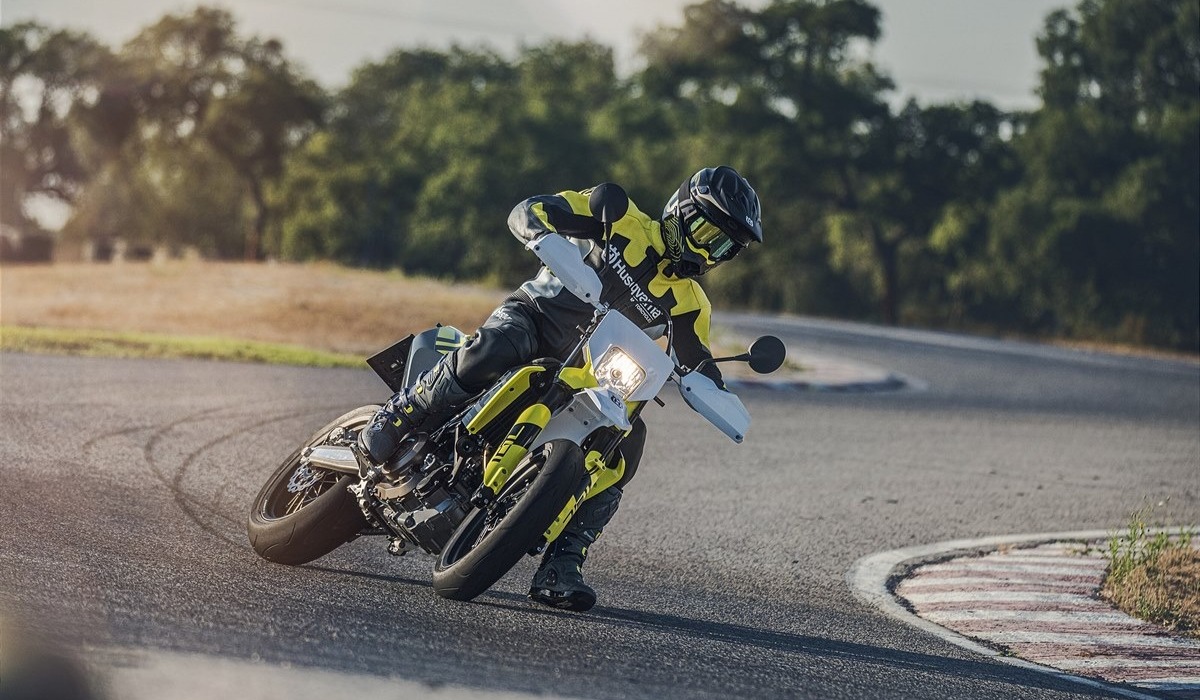 Husqvarna Motorcycles is pleased to announce the availability of the innovative 2023 701 Enduro and 701 Supermoto machines, with each model upgraded with a striking new colour scheme. Continuing to set the benchmark for large-displacement single-cylinder motorcycles, these machines feature advanced technology and the latest electronic rider aids to create an unparalleled riding experience both on and offroad.
The two models, each uniquely characterised by Husqvarna Motorcycles' Swedish DNA, are equipped with an intelligently designed LCD dashboard. The USB port ensures a constant charge to navigational devices for uninterrupted riding while an RPM display and gear selection indicator are clearly visible at a glance. Riders can quickly personalise their machine by selecting from two ride modes and by activating, or deactivating, traction control. These options allow for a truly customised set-up to be created on both the 701 Enduro and 701 Supermoto.
On tarmac and beyond, the 701 Enduro is a highly proficient machine, and is finished with an understated, Swedish-inspired livery. With the ability to disengage the ABS function, riders can take full control of braking on loose terrain. For the 701 Supermoto, a commanding presence on the open road is achieved with its darker, distinctive black and grey colour scheme, while a Brembo Monoblock four-piston front brake caliper and 320 mm brake disc ensure superior stopping power.
Technical highlights:
Striking new colours and graphics create a distinctive and progressive look
Brembo Monoblock front brake caliper on the 701 Supermoto for exceptional braking performance
Advanced Ride Mode functionality includes Supermoto/Offroad ABS modes
ABS functionality can be fully disengaged on 701 Enduro for exceptional offroad performance
LCD dashboard with integrated gear indicator and RPM display
USB port for charging navigational devices
Cornering ABS
Lean-angle-sensitive traction control
Easy shift
Chromium-molybdenum steel trellis frame
Aluminium swingarm
Polyamide rear subframe with integrated fuel tank
74 hp single-cylinder engine
Ride-by-wire throttle
Power assist slipper clutch
To be fully prepared for all conditions and to dress for each ride, the Functional Apparel collection is a comprehensive range of items that deliver the highest levels of protection, functionality, and comfort. In addition, further customisation of the 701 Enduro and 701 Supermoto machines can be achieved with the extensive line-up of Technical Accessories designed to add protection, durability, and to enhance the styling of both motorcycles.
The 2023 701 Enduro and 701 Supermoto are available now priced:
2023 701 Enduro £9,799
2023 701 Supermoto £9,799