Up to £1,000 savings available on Husqvarna Motorcycles' winning Adult and Kids Motocross range.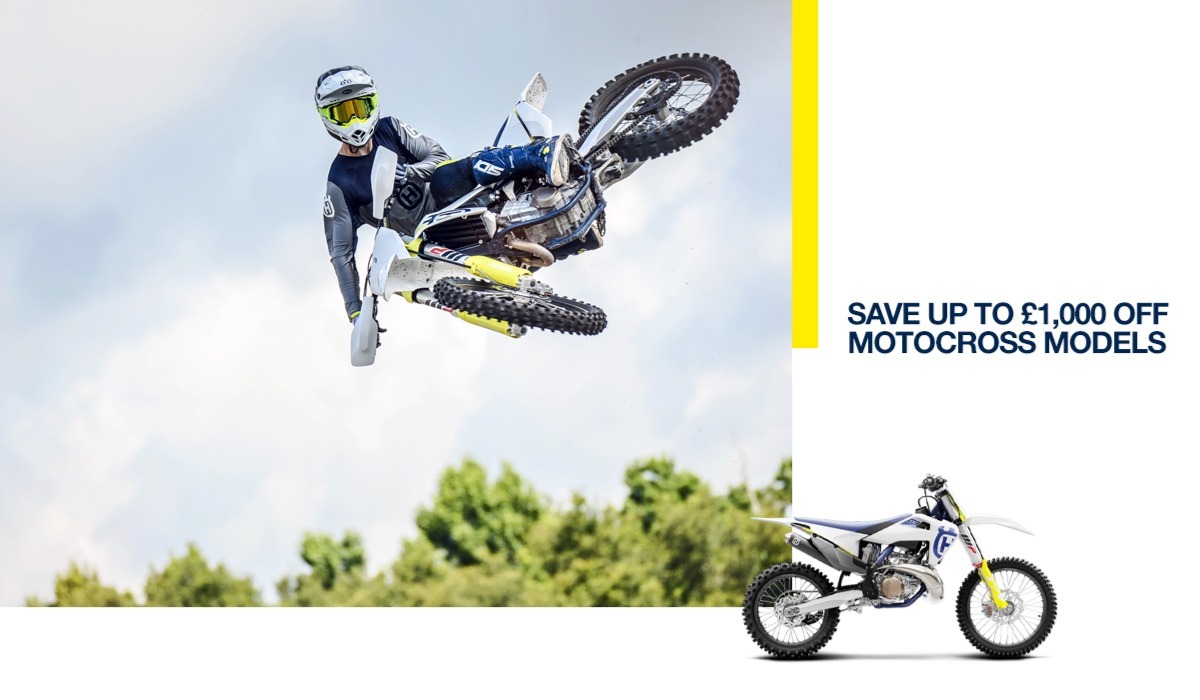 If you're thinking of taking your riding to new heights or returning to the rough stuff, now is the chance to fulfil your riding potential with an outstanding offer right across the FC and TC range*. Husqvarna Motorcycles is offering £1,000 off its 2020 range of two and four-stroke Adult motocross range – with up to £600 savings available on its Kids range, too.
Authorised Husqvarna Motorcycles Dealers are reopening with the incentive of some serious savings on the most powerful, most advanced and most capable competition machines on the planet. From the mighty masterpiece that is the Husqvarna Motorcycles FC 450 right down to the perfect start for any aspiring rider – the Husqvarna Motorcycles TC 50 – there's an ideal machine to fit your abilities and aspirations.
Finance options are available, as are a whole host of Technical Accessories and Functional Clothing options should you want to invest your £1,000 saving into some uncompromising garments for you or your new machine.
This offer is only available at participating Authorised Husqvarna Motorcycles Dealers on 2020 motocross models while stocks last. The use of an Authorised Husqvarna Motorcycles Dealer ensures that you are offered the best possible service using trained staff and with the back-up of Husqvarna Motorcycles behind you. While restrictions are in place, please contact us ahead of any visit to understand showroom policies and availability of models.
| | | | |
| --- | --- | --- | --- |
| | PROMOTIONAL PRICE | MSRP | SAVING |
| TC 50 (inc Mini) | £3,199 | £3,699 | £500 |
| TC 65 | £3,849 | £4,399 | £550 |
| TC 85 17/14 | £4,599 | £5,199 | £600 |
| TC 85 19/16 | £4,599 | £5,199 | £600 |
| TC 125 | £6,099 | £7,099 | £1,000 |
| TC 250 | £6,749 | £7,749 | £1,000 |
| FC 250 | £7,149 | £8,149 | £1,000 |
| FC 350 | £7,299 | £8,299 | £1,000 |
| FC 450 | £7,449 | £8,449 | £1,000 |
*Husqvarna 2020 Motocross Promotion excludes FC 450 Rockstar Edition and EE-5