KTM 1290 SUPER DUKE RR 2023
LIMITED NUMBERS, UNLIMITED FURY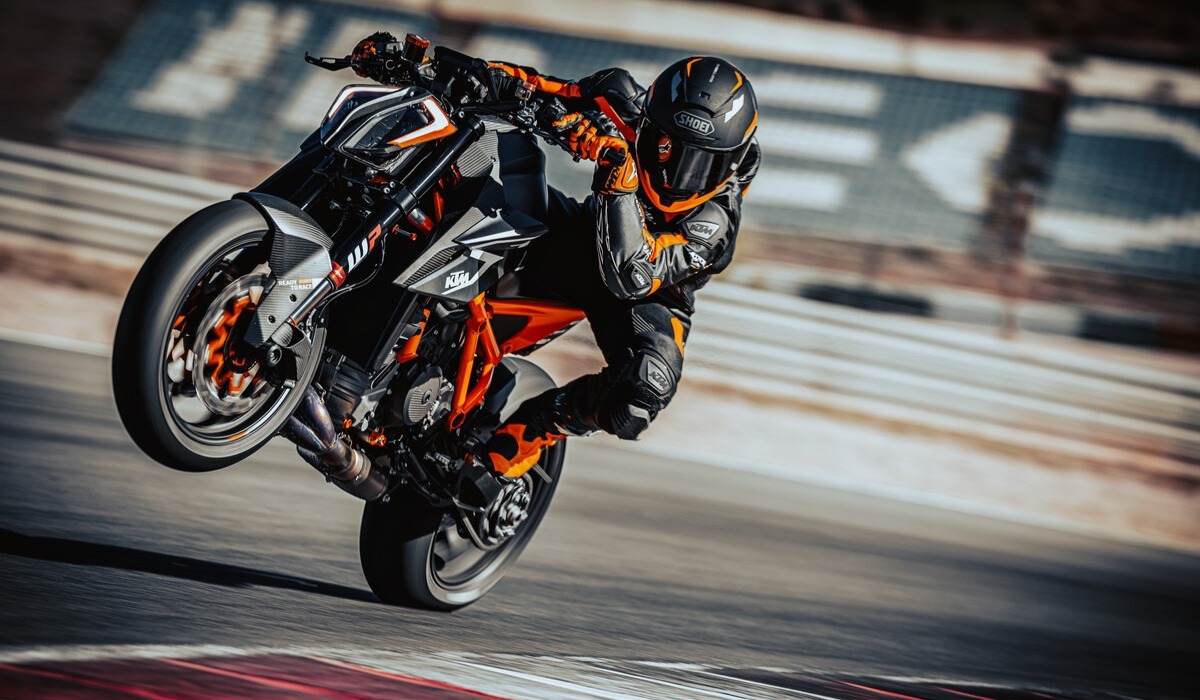 Following the roaring success of the KTM 1290 SUPER DUKE RR in 2021, 500 units of the 2023 KTM 1290 SUPER DUKE RR will go into production, promising the same levels of ferocity but with a meaner, darker look.
The KTM 1290 SUPER DUKE RR will once again rip into the Tarmac, leaving a deep, lasting impression as the ultimate limited-edition Hyper Naked motorcycle in the KTM stable. The numbers tell the story – 1,301 cc, 180 hp, 180 kg and 140 Nm, with a phenomenal 1:1 power-to-weight ratio, making it every bit as beastly as its predecessor, but with a darker shadow.
Sporting a gloss black and matt carbon base, contrasting white graphics and striking orange accents, the 2023 KTM 1290 SUPER DUKE RR casts an ominous shadow with menacing intentions. This is further exaggerated with a collection of unique custom-made components which are specific to the RR, adding more aggression and attitude.
With the KTM 1290 SUPER DUKE RR being 11 kg lighter than a standard KTM 1290 SUPER DUKE R EVO, it is equally at home decimating lap times as it is carving up mountain roads, providing riders with the ultimate Hyper Naked package.
However, it's the collection of WP Suspension's finest components worn by the 1290 SUPER DUKE RR that take it from a backroad brawler to accomplished track day terror. Upfront, a fully adjustable WP APEX PRO 7548 closed cartridge fork has been tailored specifically for the RR, while a custom-made WP APEX PRO 7746 shock takes charge of the rear. The WP APEX PRO 7117 steering damper keeps things in check, offering 30 clicks to dial it into your specification.
Carbon fibre is used extensively, with the subframe also receiving the lightweight carbon treatment, creating a unique single-seat unit. The LED taillights are incorporated into the LED turn signals, as well as KTM's adaptive brake light as standard.
As an added extra to enforce the KTM 1290 SUPER DUKE RR exclusivity, owners will be presented with a bespoke carbon fibre box containing the keys to their new BEAST.
For the absolute power-hungry, an Akrapovic EVO line full exhaust system is available as an optional extra, which adds even more bite to THE BEAST.
Notable features on the KTM 1290 SUPER DUKE RR include:

1:1 power-to-weight ratio

WP APEX PRO COMPONENTS Suspension

Akrapovic Slip-on exhaust

Exclusive carbon fiber bodywork

Lightweight lithium ion battery

Ultra-lightweight forged wheel Carbon fibre subframe with a single seat

New, black CTG

Limited to only 500 units across Europe and the UK

Unique, branded carbon key box Factory triple clamp

Adjustable CNC-machined rearset
Not only impressive when it comes to hardware, the KTM 1290 SUPER DUKE RR boasts the most complete track-orientated electronics pack ever seen on a KTM motorcycle as standard, adding advanced TRACK and PERFORMANCE MODE. While the KTM 1290 SUPER DUKE RR already boasts a full range of exclusive components and bodywork, riders looking for more ferocity can browse a full range of specially developed KTM PowerParts, along with a dedicated range of KTM PowerWear. This includes a custom leather race suit, uniquely finished KTM 1290 SUPER DUKE RR branding and matching design.
The 2023 KTM 1290 SUPER DUKE RR will only be available in Europe and the United Kingdom.