Model Description
With all the hallmarks of a true custom, it sports really cool details from raw steel tank, narrow street tracker bars and fat knobbly tyres. The beauty of this bike is we build it for you, no need to spend months in the garage, all you gotta do is ride.
As with all our Mutts the RS-13 is true to form, lightweight, stripped down and cooler than a polar bear's PJs.
RAW CUSTOM VIBE
The RS-13 follows the classic Mutt stylistic approach – retro styling and riding experience with with modern reliability and ease of operation. The 125cc air cooled single cylinder engine is housed in our tubular twin shock frame and feels like a much bigger bike, a perfect machine for carving up inner city traffic or just as at home slamming through the twists and turns of the countryside. Running narrower handlebars for an upright aggressive riding position, it's perfect for hacking through the city traffic and that super bright halogen headlight lights up the road ahead with ease from behind the matt black grill. Keeping to a retro classic roots the RS-13 runs 18" wheels front and rear shod with super fat, deep tread fat nobbly tyres.
WHITE LINE FEVER
Short black rear shocks and wide yokes with telescopic forks keep the bike firmly planted on the tarmac. For rider comfort and retro vibe, it has diamond pattern black grips and a choice of black diamond pattern black seat or a distressed tan tuck n roll seat. In true Mutt style we've fitted all black wheels with black spokes, flat black aluminium mudguards and of course our neat little black LED aluminium tail light and LED indicators. The crowning glory of this little thumper is without doubt that raw steel tank, each tank is hand finished here at Mutt HQ, each tank hand rubbed each tank to create a uniform finish, the tank is then clear coated to prevent rusting and the final black stripe applied with our Mutt logo.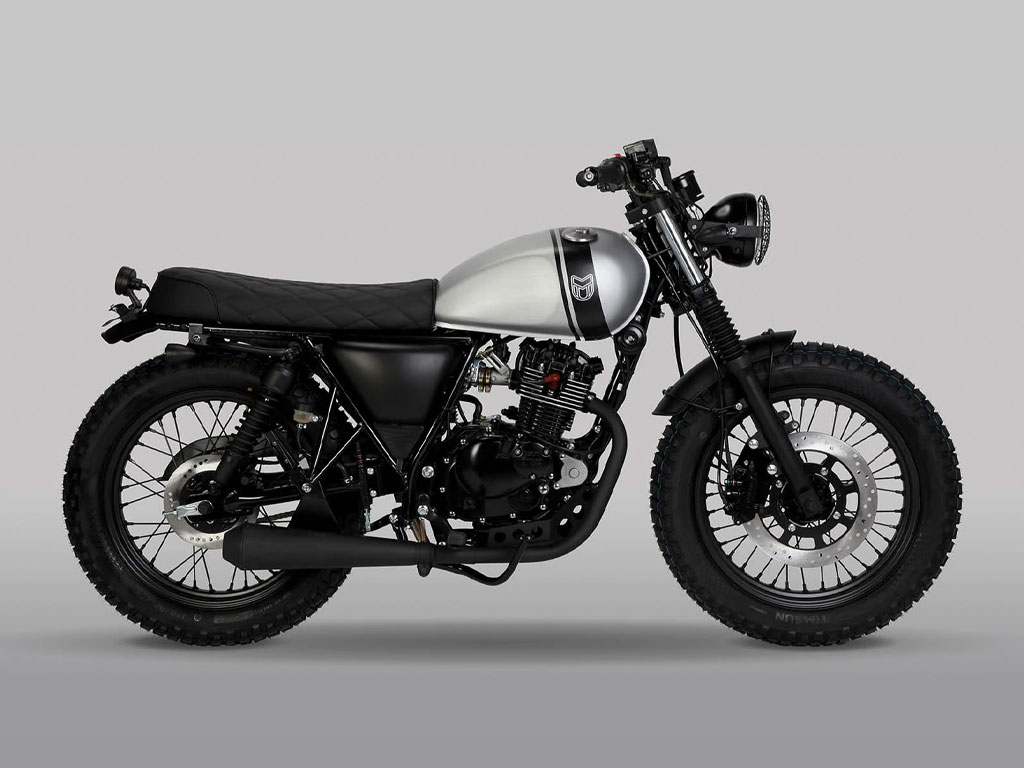 Brand Name
Product Name
Price
Product Availability