KTM 1290 SUPER DUKE RR 2023
LIMITED NUMBERS, UNLIMITED FURY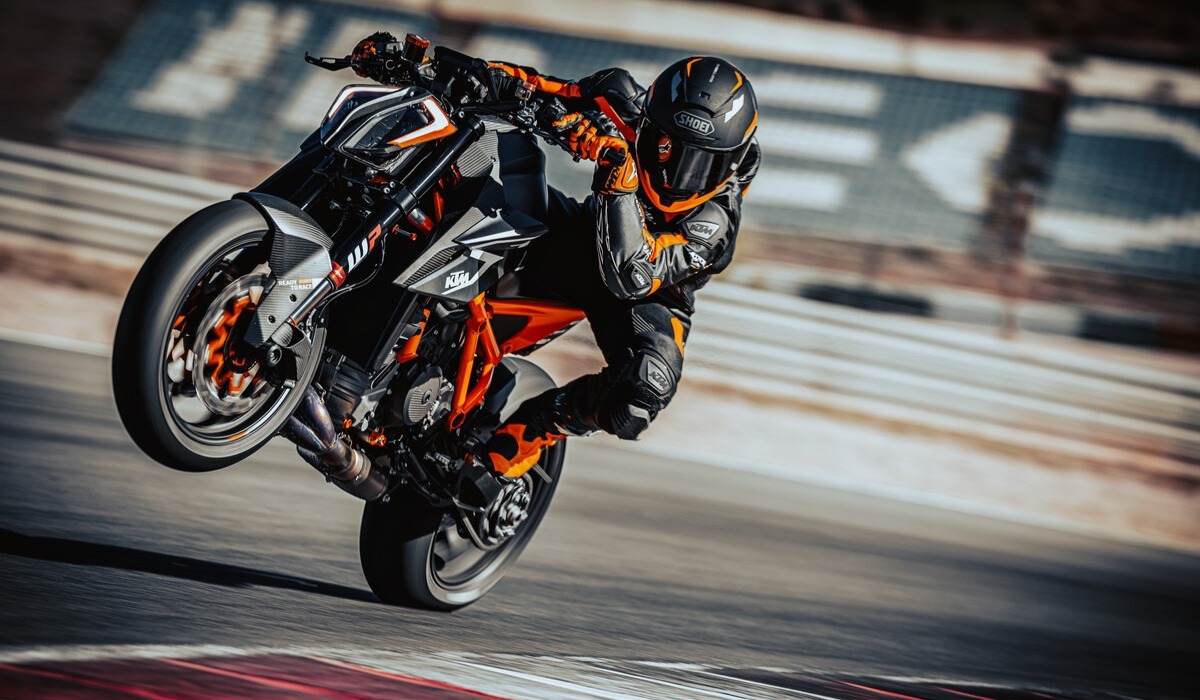 Following the roaring success of the KTM 1290 SUPER DUKE RR in 2021, 500 units of the 2023 KTM 1290 SUPER DUKE RR will go into production, promising the same levels of ferocity but with a meaner, darker look.
The KTM 1290 SUPER DUKE RR will once again rip into the Tarmac, leaving a deep, lasting impression as the ultimate limited-edition Hyper Naked motorcycle in the KTM stable. The numbers tell the story – 1,301 cc, 180 hp, 180 kg and 140 Nm, with a phenomenal 1:1 power-to-weight ratio, making it every bit as beastly as its predecessor, but with a darker shadow.
Sporting a gloss black and matt carbon base, contrasting white graphics and striking orange accents, the 2023 KTM 1290 SUPER DUKE RR casts an ominous shadow with menacing intentions. This is further exaggerated with a collection of unique custom-made components which are specific to the RR, adding more aggression and attitude.
With the KTM 1290 SUPER DUKE RR being 11 kg lighter than a standard KTM 1290 SUPER DUKE R EVO, it is equally at home decimating lap times as it is carving up mountain roads, providing riders with the ultimate Hyper Naked package.
However, it's the collection of WP Suspension's finest components worn by the 1290 SUPER DUKE RR that take it from a backroad brawler to accomplished track day terror. Upfront, a fully adjustable WP APEX PRO 7548 closed cartridge fork has been tailored specifically for the RR, while a custom-made WP APEX PRO 7746 shock takes charge of the rear. The WP APEX PRO 7117 steering damper keeps things in check, offering 30 clicks to dial it into your specification.
Carbon fibre is used extensively, with the subframe also receiving the lightweight carbon treatment, creating a unique single-seat unit. The LED taillights are incorporated into the LED turn signals, as well as KTM's adaptive brake light as standard.
As an added extra to enforce the KTM 1290 SUPER DUKE RR exclusivity, owners will be presented with a bespoke carbon fibre box containing the keys to their new BEAST.
For the absolute power-hungry, an Akrapovic EVO line full exhaust system is available as an optional extra, which adds even more bite to THE BEAST.
Notable features on the KTM 1290 SUPER DUKE RR include:

1:1 power-to-weight ratio

WP APEX PRO COMPONENTS Suspension

Akrapovic Slip-on exhaust

Exclusive carbon fiber bodywork

Lightweight lithium ion battery

Ultra-lightweight forged wheel Carbon fibre subframe with a single seat

New, black CTG

Limited to only 500 units across Europe and the UK

Unique, branded carbon key box Factory triple clamp

Adjustable CNC-machined rearset
Not only impressive when it comes to hardware, the KTM 1290 SUPER DUKE RR boasts the most complete track-orientated electronics pack ever seen on a KTM motorcycle as standard, adding advanced TRACK and PERFORMANCE MODE. While the KTM 1290 SUPER DUKE RR already boasts a full range of exclusive components and bodywork, riders looking for more ferocity can browse a full range of specially developed KTM PowerParts, along with a dedicated range of KTM PowerWear. This includes a custom leather race suit, uniquely finished KTM 1290 SUPER DUKE RR branding and matching design.
The 2023 KTM 1290 SUPER DUKE RR will only be available in Europe and the United Kingdom.
NORDEN 901 EXPEDITION
HUSQVARNA MOTORCYCLES LIFTS THE COVERS OFF EXCITING NEW TOURING MACHINE
Husqvarna Motorcycles is excited to unveil the Norden 901 Expedition – a new and highly capable touring machine designed to offer endless exploration. Expertly assembled with premium Technical Accessories to improve ease of use, the Norden 901 Expedition comes complete with long travel WP XPLOR suspension to ensure all riders can explore further for longer. The new travel motorcycle is finished with a striking new colour scheme to signify its outstanding capabilities both on and offroad.
Guaranteeing the Norden 901 Expedition excels across the roughest terrain, the new offroad-specific WP XPLOR suspension with 240 mm of travel is fitted to both the front and rear of the motorcycle. This premium, fully adjustable suspension gives riders the opportunity to fine-tune the compression, rebound, and preload settings to create a personalised set-up based on their individual preferences.
Contributing to maximum rider comfort on all long-distance adventures, the Norden 901 Expedition is equipped with many of Husqvarna Motorcycles' Technical Accessories as standard. For early morning starts and especially beneficial for riders exploring colder climates, the adjustable heated grips and rider's seat provide instant warmth. Additionally, rider fatigue is reduced considerably with the fitment of a new Touring Windshield. Deflecting wind around the motorcycle, particularly at higher speeds, riders are fully protected and able to discover new worlds in complete comfort.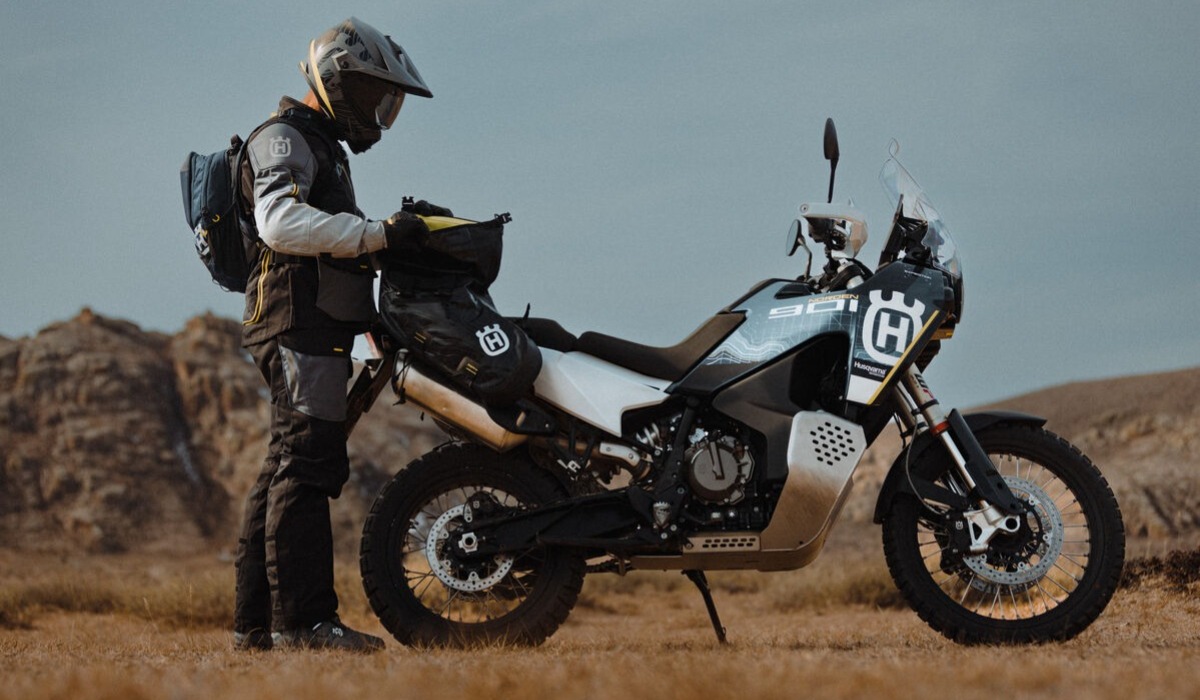 Turning journeys into expeditions, this convenient new travel motorcycle is built to begin any adventure straight from the showroom thanks to the pre-fitted Side Bag Set. This neat luggage solution integrates perfectly with the bodywork and offers up to 36 litres of storage capacity.
Powered by an 889 cc parallel-twin engine producing 105 hp and 100 Nm of torque, the Norden 901 Expedition offers a broad spread of smooth, controllable power, which is particularly efficient across challenging offroad terrain. Housed inside the steel trellis frame, the versatile engine works together with the chromium-molybdenum chassis to provide exceptional agility, rider feedback, and comfort throughout the longest of riding days.
Completing the build and improving ease-of-maintenance and protection on the longest of riding days, a new centre stand, engine guard, and Connectivity Unit are fitted as standard to enhance every adventure. With the Ride Husqvarna Motorcycles app installed onto a smartphone, and with the device paired to the motorcycle's Connectivity Unit via Bluetooth, riders will benefit from downloadable maps, Turn-by-Turn+ navigation, Call-In, Call-Out, and view real-time traffic information. Music selection and volume can also be controlled safely while riding using the handlebar-mounted buttons.
Technical highlights:
WP XPLOR suspension offers longer travel (240 mm) and full adjustability
Heated grips and rider seat for cold weather comfort
Touring Windshield for reduced fatigue on extended rides
Side Bag Set offers convenient storage
Centre Stand for easier maintenance
Heavy duty Skid Plate for complete protection of tank and engine
Connectivity Unit provides Turn-by-Turn+ navigation, Call-In, Call-Out, and music selection from the rider's smartphone
Ride Husqvarna Motorcycles app available from Apple AppStore and Google Playstore
Chromium-molybdenum steel trellis frame with engine as stressed member889 cc parallel-twin engine with 105 hp peak power and 100 Nm of torque
Four selectable ride modes (Street, Rain, Offroad, Explorer)
Cutting-edge, switchable cornering ABS with Offroad mode
Easy Shift function
Cornering-sensitive traction control allows for nine levels of adjustable rear wheel slip (in Explorer mode)
Power Assist Slipper Clutch (PASC)
Tubeless spoked wheels in offroad dimensions and Pirelli Scorpion Rally STR tyres for maximum performance on the street and offroad
Large capacity 19-litre fuel tank provides an extended range of up to 400 km
To be fully prepared for all conditions, the Functional Apparel Collection features riding gear produced for the Norden rider that delivers the highest levels of protection, functionality, and comfort. In addition, further customisation of the Norden 901 Expedition can be achieved with the extensive line-up of Technical Accessories designed to add protection, performance, and visual highlights.
Husqvarna Motorcycles' 2023 Norden 901 Expedition will be available from March 2023.
OUTPERFORM THE COMPETITION
WITH HUSQVARNA MOTORCYCLES' 2023 FC 450 ROCKSTAR EDITION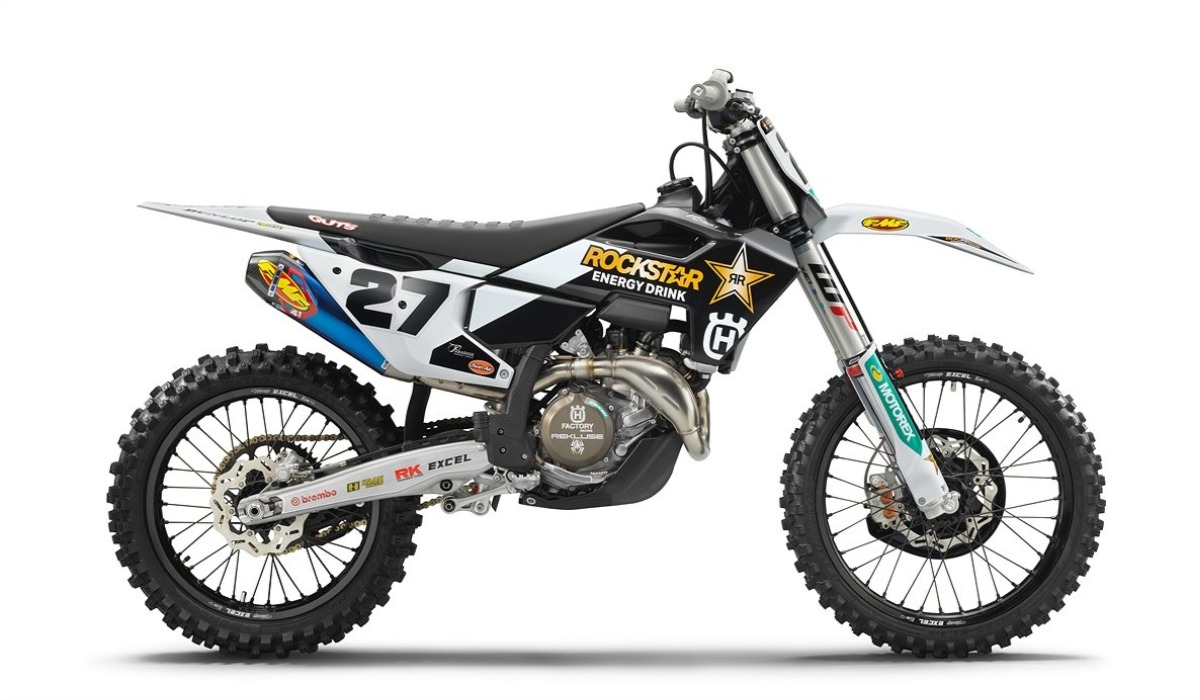 Husqvarna Motorcycles is pleased to announce the new FC 450 Rockstar Edition. A proven model that is continually evolving, the latest version is enhanced by a selection of race-tested components to provide all motocross riders with a competitive edge.
The latest factory team replica machine is equipped with a new silencer, wheels, protective parts and revised suspension settings, which give riders of all abilities a definitive on-track advantage. Retaining its class-leading performance, the FC 450 Rockstar Edition is finished with the latest Rockstar Energy Husqvarna Factory Racing graphics.
Revised shim stack settings inside the WP XACT 48 mm front forks and XACT rear shock enhance the balance of the FC 450 Rockstar Edition to ensure improved stability at high speed without effecting its proven cornering agility. This considered refinement boosts self-confidence, allowing all levels of riders to master the racetrack with complete confidence while consistently posting faster lap times.
All riders can easily customise how the 450cc SOHC engine performs depending on either their preference or track conditions by using the handlebar-mounted Map Select Switch. The intuitive, multifunctional instrument houses clearly marked buttons to engage one of two pre-set engine maps, activate launch control and traction control, and enable Quickshifter for seamless upshifts, even when under heavy load.
The FC 450 Rockstar Edition is expertly assembled and comes complete with an extended list of competition-focused Technical Accessories. Adjustable Factory Racing triple clamps, an FMF Racing Factory 4.1 silencer, and Factory Racing wheels headline the hardware with a Factory Start device, GUTS Racing high-grip seat cover, ProTaper handlebar and soft ODI grips offering assured comfort and control.
2023 Technical Highlights
New Rockstar Energy Husqvarna Factory Racing graphics
New Factory Racing wheel set with EXCEL Takasago rims and black anodised CNC machined hubs
New FMF Racing Factory 4.1 silencer
New 2K Carbon composite skid plate for extended engine and frame protection
New 2K Carbon composite front brake disc guard for added protection
Updated suspension settings for improved balance and comfort
Bodywork designed to encourage easier rider movement on the motorcycle
Hydro-formed chromium molybdenum frame for improved anti-squat behaviour
Die-cast aluminium swingarm provides strength and flex at a low weight
450cc SOHC engine provides class-leading performance
Quickshift functionality ensures seamless up-shifting
High-performance Brembo hydraulic clutch system
Aluminium-polyamide hybrid subframe construction provides specifically calculated rigidity and advanced durability
WP XACT 48 mm front forks with AER technology offer more progressive end-of-stroke damping
WP XACT rear shock designed with CFD optimised main piston and tool-free adjusters
Multifunctional map switch which activates the Quickshifter, traction control, and launch control
Factory Racing CNC-machined triple clamps with adjustable offset [20 – 22 mm]
Pre-installed Factory start device
Soft, grey ODI lock-on grips for comfort
GUTS Factory Racing high-grip seat cover
Premium-quality ProTaper handlebar and bar pad
Electric starter powered by a lightweight Li-Ion 2.0 Ah battery
Ensuring all riders are fully equipped for their next event, a concise, high-quality selection of race-team inspired casual clothing has been created. With two styles available within the range of t-shirts, hoodies, jackets and headwear, riders can choose to express their passion for Husqvarna Motorcycles or replicate the same pit presence as Rockstar Energy Husqvarna Factory Racing.
The 2023 FC 450 Rockstar Edition will be available in limited numbers from January 2023 priced £10,870.
MASTER THE TERRAIN
2023 701 ENDURO AND 701 SUPERMOTO MODELS AVAILABLE NOW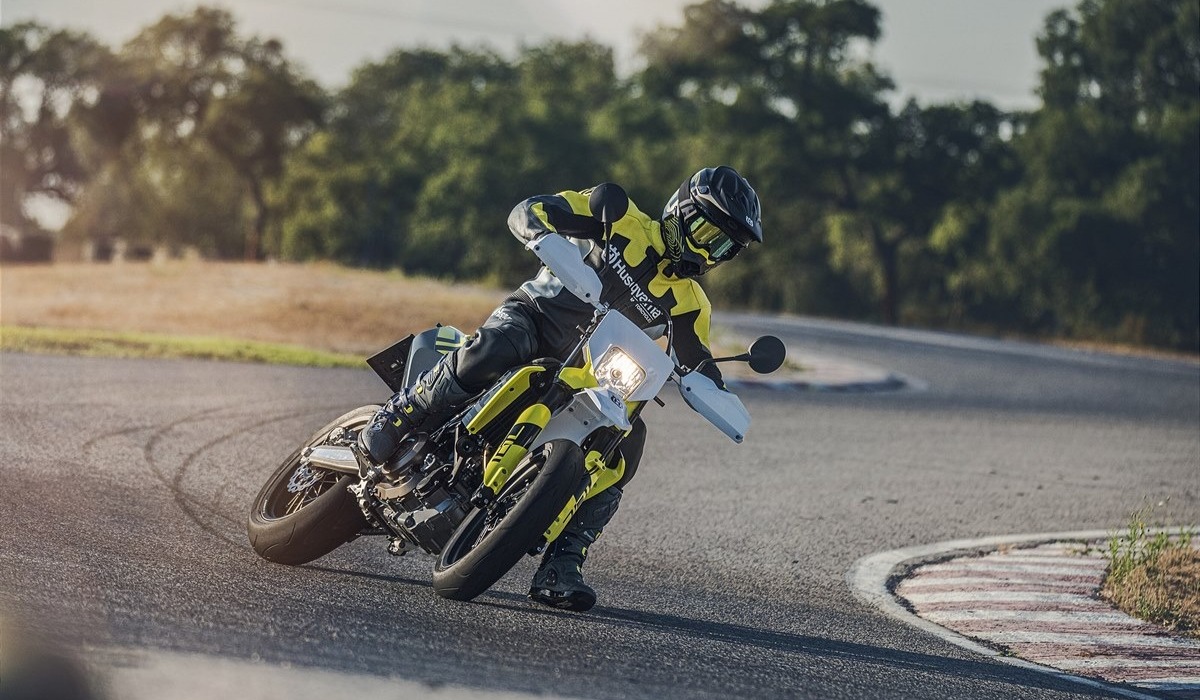 Husqvarna Motorcycles is pleased to announce the availability of the innovative 2023 701 Enduro and 701 Supermoto machines, with each model upgraded with a striking new colour scheme. Continuing to set the benchmark for large-displacement single-cylinder motorcycles, these machines feature advanced technology and the latest electronic rider aids to create an unparalleled riding experience both on and offroad.
The two models, each uniquely characterised by Husqvarna Motorcycles' Swedish DNA, are equipped with an intelligently designed LCD dashboard. The USB port ensures a constant charge to navigational devices for uninterrupted riding while an RPM display and gear selection indicator are clearly visible at a glance. Riders can quickly personalise their machine by selecting from two ride modes and by activating, or deactivating, traction control. These options allow for a truly customised set-up to be created on both the 701 Enduro and 701 Supermoto.
On tarmac and beyond, the 701 Enduro is a highly proficient machine, and is finished with an understated, Swedish-inspired livery. With the ability to disengage the ABS function, riders can take full control of braking on loose terrain. For the 701 Supermoto, a commanding presence on the open road is achieved with its darker, distinctive black and grey colour scheme, while a Brembo Monoblock four-piston front brake caliper and 320 mm brake disc ensure superior stopping power.
Technical highlights:
Striking new colours and graphics create a distinctive and progressive look
Brembo Monoblock front brake caliper on the 701 Supermoto for exceptional braking performance
Advanced Ride Mode functionality includes Supermoto/Offroad ABS modes
ABS functionality can be fully disengaged on 701 Enduro for exceptional offroad performance
LCD dashboard with integrated gear indicator and RPM display
USB port for charging navigational devices
Cornering ABS
Lean-angle-sensitive traction control
Easy shift
Chromium-molybdenum steel trellis frame
Aluminium swingarm
Polyamide rear subframe with integrated fuel tank
74 hp single-cylinder engine
Ride-by-wire throttle
Power assist slipper clutch
To be fully prepared for all conditions and to dress for each ride, the Functional Apparel collection is a comprehensive range of items that deliver the highest levels of protection, functionality, and comfort. In addition, further customisation of the 701 Enduro and 701 Supermoto machines can be achieved with the extensive line-up of Technical Accessories designed to add protection, durability, and to enhance the styling of both motorcycles.
The 2023 701 Enduro and 701 Supermoto are available now priced:
2023 701 Enduro £9,799
2023 701 Supermoto £9,799
WHERE NOW?
RACE ANYWHERE WITH THE 2023 KTM 1290 SUPER ADVENTURE S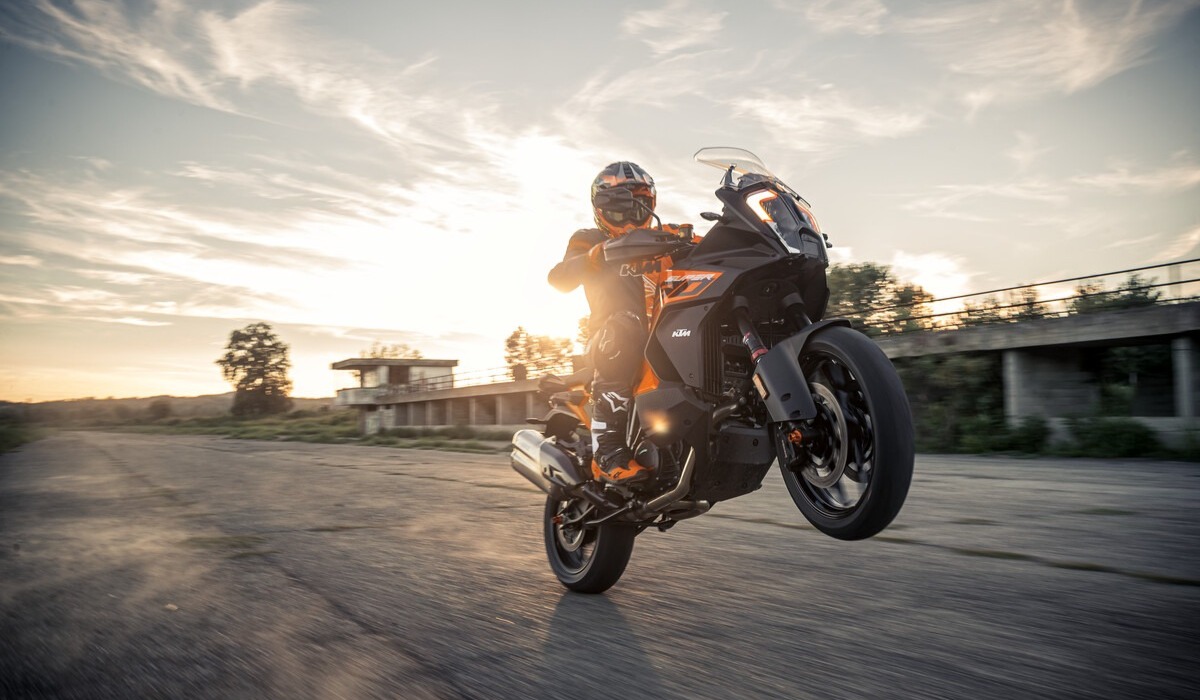 The benchmark stays but will you go further? The KTM 1290 SUPER ADVENTURE S removed limits and boundaries for any motorcyclist curious to #DARE2ADV. How? The power, versatility, assurance and technical excellence prompted riders to race into the unknown, safe in the knowledge that what they had underneath them would handle any requirement with a deft touch.
For 2023 KTM has taken the rich base of the KTM 1290 SUPER ADVENTURE S, engineered to conquer mile after mile on all types of terrain, and added a fresh sheen as well as several refinements for the benefit of practical adventuring.
Eyes will be drawn to the two new shades: the glow of the unmissable signature KTM orange and black trim or the more neutral but elegant hue of KTM's graded grey aesthetic. The orange, that stretches all the way through to the forged aluminum subframe, engineered to offer a lower seat height (at 849 mm or 869 mm) and superb load-carrying capability, is like a badge of honour for hardcore explorers. However, the classy grey spreads across the bodywork – chiselled to prioritise agile handling, front end confidence, comfort and protection, and houses the 23-litre three-part tank with superlative fuel range. The tone is as fetching for a swift dash into the office, as it would be for a blast across country borders.
Roaming roads everywhere and anywhere with the 2023 KTM 1290 SUPER ADVENTURE S is now a lot easier thanks to augmented navigation software. KTM already made the 7" TFT display a cinch for customisation thanks to the infographics and menu system that gave the rider full control over the RIDE MODES, advanced WP Semi-Active Suspension, ABS settings and Adaptive Cruise Control. The combination of intuitive handlebar switches and access to the technical possibilities of the KTM 1290 SUPER ADVENTURE S was a major calling card for one of the company's flagship models.
For 2023 KTM aimed for more utility – adventurers can now count on extra options with their navigation plotting. The KTMConnect App now boasts Turn-by-Turn+ guidance and waypoint markers while on the go, without having to stop and adjust any mobile device. The same functionality also extends to audio tracks and listing 'Favourites' when it comes to phone calls. Being able to keep hands on the handlebars not only means gobbling more mileage, but safe and more enjoyable interaction with the KTM 1290 SUPER ADVENTURE S.
Let's remind ourselves why the KTM 1290 SUPER ADVENTURE S is the ultimate high-performance adventure bike. The V-Twin LC8 rumbles to 160 hp and 138 Nm of torque and the devastating spectrum of power allows the KTM 1290 SUPER ADVENTURE S to glide on cruise, dip through traffic or devour tarmac with glee. The compact heart of the bike is carefully regulated by one of KTM's most advanced electronic management architectures, administering the suspension configuration and reaction, ride height, ABS, RIDE MODES, Tyre Pressure Management, Anti-dive and more. The unit fits inside a light, 10 kg chrome-molybdenum stainless steel frame, honed for handling short blasts and mountain passes, as well as the long haul, in equal measure. The rest of the package befits a premium, adventure-travel motorcycle, boasting LED lighting, reengineered windscreen and adjuster, multi-part saddle and light aluminum side-stand. The KTM 1290 SUPER ADVENTURE S specs have already been met with wide acclaim. The latest model can be elevated even further with optional electronic packs, a Quickshifter+ and WP Suspension Pro amongst other upgrades.
The KTM 1290 SUPER ADVENTURE S revels in a wide raft of specially made add-ons and accessories in the KTM PowerParts collection. From extra protective parts, aesthetic touches through detailing, performance enhancements or travel items like luggage, racks and bags; the KTM PowerParts are as enticing as it is well equipped.
Highlights of the 2023 KTM 1290 SUPER ADVENTURE S
// Two brand new colour schemes with prominent black and orange as well as graded grey choices
// Enhanced navigation potential with Turn-by-Turn+ guidance and more travel options
// Versatile Euro5 V-twin LC8 engine with 160 hp and 138 Nm of torque means a world without limits
// Lightweight ChroMo stainless steel chassis with geometry that accentuates cornering potential and stability
// Sophisticated WP Semi-Active Suspension hardware and software smooths out every route, all the time, any time
// Cutting-edge technology and Bosch 6D sensor to influence bike behavior and ABS settings
// Ergonomics and bodywork emphasising control but also comfort and confidence, 849 or 869 mm seat height
// A host of optimised travel-minded features: illuminated switches, footpegs, stand, windshield, LED lights and simplistic but advanced dashboard interactivity// Adaptive Cruise Control as standard
// Mitas TERRA FORCE-R tyres, specialised for the KTM 1290 SUPER ADVENTURE S to guarantee the best offering of grip and long-term performance
Snap tight the luggage straps, zip-up the all-weather riding gear, connect the GPS and prepare to conquer the road, the trail and the day ahead.
Take the 2023 KTM 1290 SUPER ADVENTURE S into the unknown from January 2023, priced £16,599.
DARE TO TAKE THE NEXT STEP
DISCOVER THE WORLD OF EXPLORATION WITH THE REVIVED KTM 790 ADVENTURE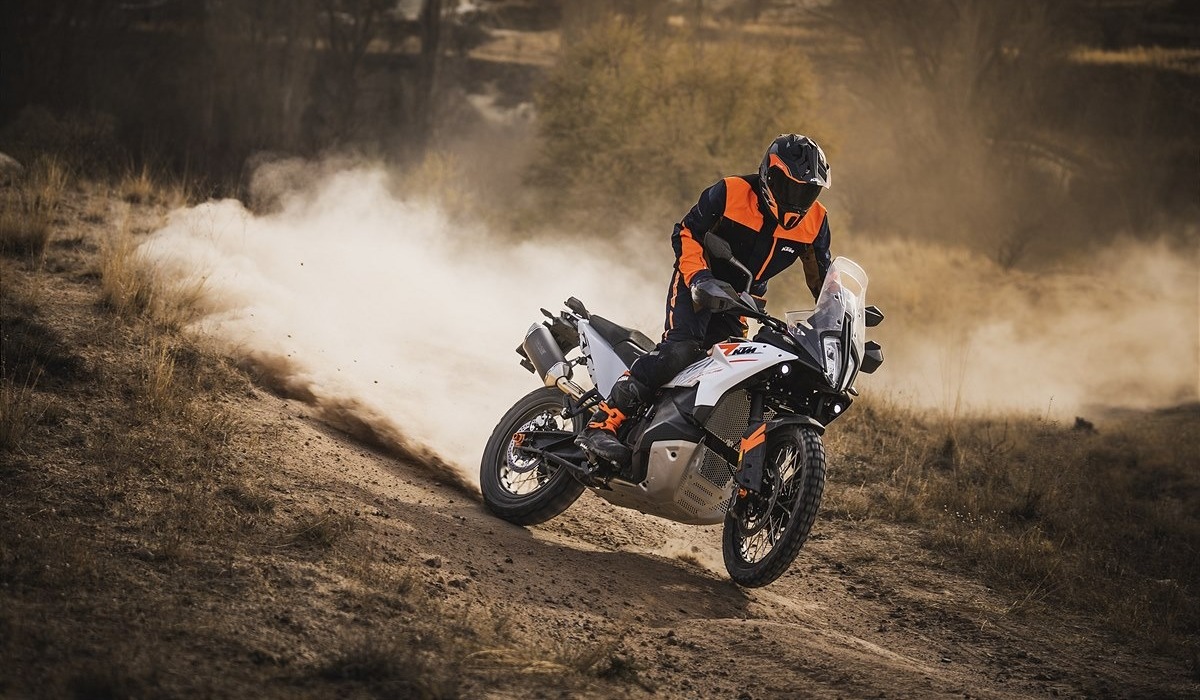 KTM's expanding worldwide production network has given the travel segment the juiciest 'throwback' with the reinvigoration of the KTM 790 ADVENTURE: the original searing combo of torquey power, lithe handling and utter versatility, refreshed for 2023.
In 2018 the bike set the standard for a mix of energising performance and empowerment. It defined the midweight motorcycling travel sector, a niche created by KTM. Riders could gas the KTM 790 ADVENTURE across either tarmac or the trail with utter commitment and confidence, knowing they would have the goods and specifications to overcome a wide range of conditions or landscapes. Come 2022 and there was momentum for an overhaul of this ideal 'first taste' foil, for people curious or craving for adventure.
The 2023 KTM 790 ADVENTURE was re-designed and redrafted in Mattighofen, Austria, while production will be carried out to the highest standard by KTM's close and potent partner, CFMOTO, in their first-class facilities in China. The process will be supervised by KTM staff on the ground. The transcontinental cooperation is not the first for KTM and will ensure the adventure spirit can feed directly into the furthest corners of the globe.
The initial KTM 790 ADVENTURE twin cylinder LC8c motor was memorable for the torque and responsiveness, as well as the remarkable feeling of inertia it provided. For the bike's comeback, KTM wanted even more 'rideability' from the LC8c that still pumps out 95 hp at 8,000 rpm and 88 Nm at 6,500 rpm, while implementing the relevant tweaks required to meet Euro 5 emissions targets.
The 2023 KTM 790 ADVENTURE is now more stable at constant speed and has gained more cornering poise thanks to a 20% increase of rotating mass; an alteration that hasn't compromised the highly rated agility of the motorcycle, while reworked throttle bodies bring a cleaner and more efficient connection due to the enhanced combustion. The 'knock control' sensor allows for a higher state of ignition and better capacity for low octane fuel; a reassuring characteristic to cope with different fuel qualities found while travelling. A reconfigured optional Quickshifter+ enables faster shifting, which can be heard through the very latest exhaust system, updated catalytic converter and pre-muffler. This catalogue of modifications ensures this vibrant generation of the KTM 790 ADVENTURE will be an impeccable choice for both urban adventures and venturing further afield in equal measure. The 9,300 mile service intervals remain.
The dependability of the KTM 790 ADVENTURE is hiked thanks to its reworked Power Assist Slipper Clutch and new friction plates, and the engine breathes freer through a new airbox. The new model also benefits from the latest 6D sensor, otherwise known as the Inertia Management Unit, that can be found on its larger siblings, including the KTM 890 ADVENTURE and KTM 1290 SUPER ADVENTURE models. This sophisticated device informs the Cornering Motorcycle Traction Control and other aspects such as ABS, Motor Slip Regulation and the administration of Ride Modes. In terms of features, the KTM 790 ADVENTURE holds very similar billing to its larger sibling, the KTM 890 ADVENTURE. ABS programmes now automatically switch between the Ride Modes, removing the need for more configuration. KTM has installed an innovative 'DEMO' function on the 2023 KTM 790 ADVENTURE, allowing owners to trial the full package of optional riding extras for the first 1,500 km (930 miles) before deciding which settings they decide to purchase.
Refined feeling comes from the 2023 spec 43 mm WP APEX Suspension 200 mm travel fork, with the same allotment for the shock, which features adjustable preload. The construction of the CroMo frame, in which the engine is used as a stressed member, guarantees a robust and stiff constitution for pillion and load-carrying as well as clever positioning of the rear shock for a low seat height (840 mm).
A 20-litre tank and potential 450 km (279 mile) range broadens the horizons of even the hardest adventure rider. For all the time spent in the comfy 2-piece saddle (PowerParts single seat and heated units available), the 2023 KTM 790 ADVENTURE provides even more concessions to the eager traveller.
The tank follows the flow and lines of the bike where a new front mask gives way to an integrated fairing. The bodywork still permits prime contact for rider stability and control, along with being bolstered for the addition of mounts and other GPS devices. A new larger, taller screen provides more wind protection. Full LED lighting illuminates the way, while the 5″ TFT is brighter and more visible as it reacts to ambient lighting. A redesigned menu system and new infographics offer faster and easier customisation and syncing the KTMConnect App will now lead to even more navigational and travel options, such as profiling the 'top ten' calls and contacts, and adjusting the parameters of turn-by-turn guidance on the go.
As with the its larger capacity siblings, the KTM PowerParts range is plush with KTM 790 ADVENTURE components for aesthetic add-ons or extra protection, although a lightweight aluminium engine protector is fitted as standard as an extra defence. The plastics (injected moulded with graphics for more resistance) have also been reshaped to guard the seat and fuel tank against unwanted knocks.
The 2023 KTM 790 ADVENTURE comes into two dynamic and eye-catching colourways to mark the 'second coming', whilst maintaining the distinctive, signature KTM ADVENTURE looks.
2023 KTM 790 ADVENTURE Highlights:
// Superb performance and technical specifications in its segment
// Austrian created and designed, Chinese-built to the highest production standards
// Bodywork and ergonomic refinements for same unbeatable handling
// EURO 5 emissions ready LC8c engine with more rideable power
// New screen, front mask, 5" TFT display with redesigned menu system
// New PIRELLI SCORPION STR tyres with large tread blocks for more offroad focus
The 2023 KTM 790 ADVENTURE will be available from April 2023, priced £9,999.
BRUSH AWAY LIMITS
WITH THE NEW 2023 KTM 890 ADVENTURE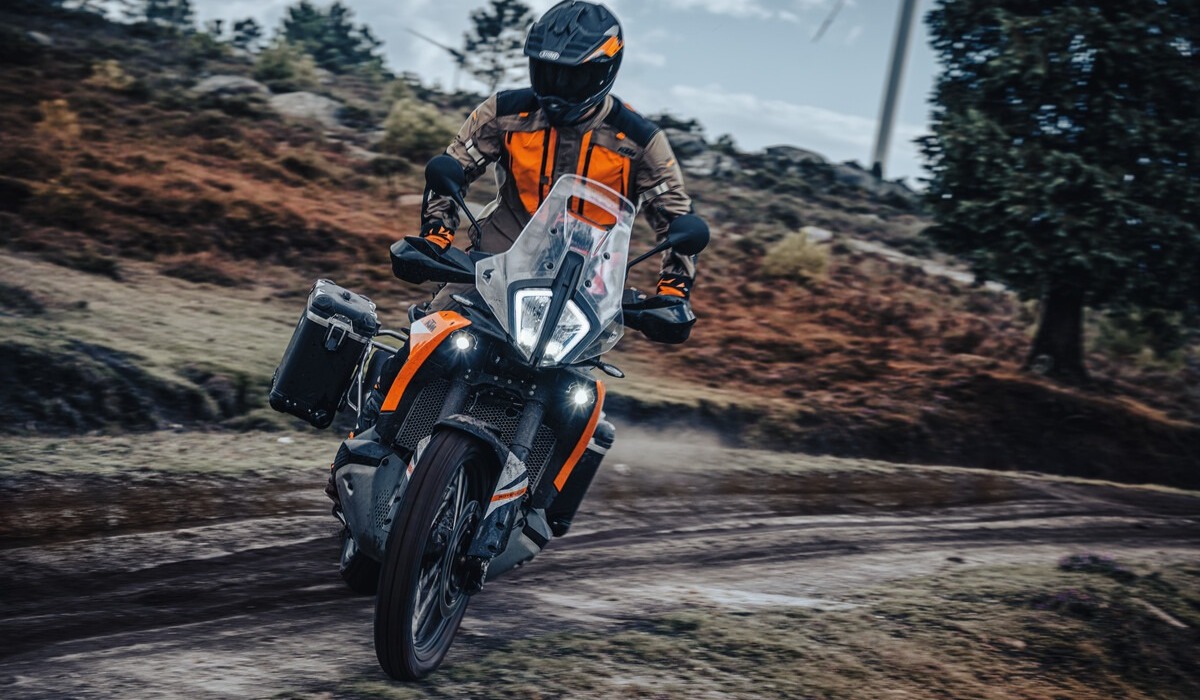 KTM has further muddied the limits of possibility in the Travel and Adventure motorcycle sector with a sharp upgrade to its midweight monarch: the KTM 890 ADVENTURE. The 2023 edition of the bike that has made any trail, any trip, any road or any route an exercise of ease and adrenaline thanks to unbeatable power, weight, agility, and specific features, is now even better.
The launch of the 2023 KTM 890 ADVENTURE opens the second phase of six in the 2023 #DARE2ADV campaign, where KTM is challenging riders by asking them to brush-off the shackles of their own fears and doubts. The bike can do it, why can't you? Initiatives and events seen in schemes like THE WORLD ADVENTURE WEEK and annual KTM ADVENTURE RALLIES are prime examples of the transformative experiences enabled and promoted by superlative 'tools' like the new KTM 890 ADVENTURE. Discover more right here.
The KTM 890 ADVENTURE has been crafted as the ultimate master of all conditions and distances. The raspy and responsive LC8 engine remains, with its fantastic output of 105 hp and 100 Nm/6500 rpm of torque. The motor puts surroundings into motion, while the ride-by-wire power is as assuring as it is thrilling, controllable as it can be wild, stable as it is spectacular. A low centre of gravity with the 20 litre fuel tank design pushes the slim form of the KTM 890 ADVENTURE to the fore and accentuates the ergonomics. Riders can feel the nimbleness and manoeuvrability in both sitting and standing positions. The robust steel subframe means that riding two up or fully laden is a breeze.
So, how can the best be made better? KTM has put the bike into a 360 degree analytical spin to pinpoint several ways in which the rider's time in the saddle can be even more unrestrained.
KTM grafted to place the seat height low in keeping with the tank's contribution to the 'ergo' (825 mm is possible thanks to various saddle options and the lowering kit slices a further 25 mm away) while keeping ground clearance high without compromising the feeling of comfort and performance. For 2023 one of the most significant changes has been made to the front mask between the head of the bike and the fuel tank. It is now integrated with a fairing section, reinforced to offer more security and more load-bearing capability for larger GPS devices. Further along, the KTM 890 ADVENTURE has wider panels on the tank and side panels to give the seat protection against unwanted bumps or scrapes.
For the more welcome bumps, reworked WP Suspension APEX 43 mm front forks now come with adjustment for rebound and compression accessible from the top caps. The APEX shock, engineered and slotted into the bike to minimize height, has new settings orientated for the wellbeing and demands of adventure riding. The use of a new 9.3 mp ABS unit feeds from the 6D sensor to enable full possible braking power in a range of scenarios. The improved ABS is synced closer to the ride modes, therefore OFFROAD ABS (maximising braking control through disengagement on the rear wheel and lowered amount on the front) is activated automatically in OFFROAD or RALLY. The KTM 890 ADVENTURE can be clicked into STREET, OFFROAD, RAIN and an optional RALLY mode. An innovative DEMO setting gifts the rider the chance to try the full package of available Rider Aids for the first 1,500 km (932 miles), before deciding whether to purchase and keep them permanently.
KTM has streamlined the ride due to a new, higher screen that offers increased wind protection, inspired by the product used on the KTM 450 RALLY. KTM has also packed more comfort into the 2-part seat with a new soft foam structure, along with increasing aerodynamics and rain protection with a slimmer front fender.
The overhauled 5" TFT display draws particular attention, not only for the revised hardware (bonded mineral glass for extra scratch and glare resistance), but the redesigned software system of menus and infographics that make alterations to the behavior of the KTM 890 ADVENTURE even simpler. The backlight changes intensity as it reacts to the environment and better synchronicity between the TFT and the KTMconnect App means seeing Turn-by-Turn+ navigation directions, listening to audio and taking calls has never been easier or more intuitive. A 2023 feature now enables riders to list their 'top ten' calls by using a favourites list or the last calls made, and is another added convenience of the advanced setup. The Turn-by-Turn+ empowers the rider to add extra customisation to their navigation details on the go via the bike's TFT menu, without having to stop and fish around for their mobile device.
Sportier graphics and more dynamic looks (the plastics are colour injected and take inspiration from KTM offroad models, utilising in-mould decals where possible, for extra resistance) comes with other practical additions such as the new aluminum engine and tank protector. Further additions include a handlebar mounted hazard warning switch and PIRELLI SCORPION STR tyres for offroad emphasis.
Kitting out and personalising the KTM 890 ADVENTURE is a breeze with KTM PowerParts; extra protective components, luggage racks and units, GPS and smartphone brackets, heated grips, different seats, and headlight kits are just some of the optional extras available.
2023 KTM 890 ADVENTURE Highlights:
// Upgraded ergonomics and bodywork for more protective and comfortable riding
// Low weight, proven race-derived chassis for perfect mix of performance and practicality
// Revised WP Suspension settings and adjusters for more response and travel 'glide' experience
// Optimised travel 'friendliness' with better TFT menus, app options, reworked Ride Modes, higher screen and more comfortable, versatile 2-piece seat
// More Offroad orientated PIRELLI SCORPION STR tyres
// Two fresh colour options and new racier graphics set
KTM UPDATES ITS 2023 STREET RANGE
KTM introduces new decals and colour updates across the 2023 STREET range, allowing riders to find a machine that matches their true READY TO RACE colours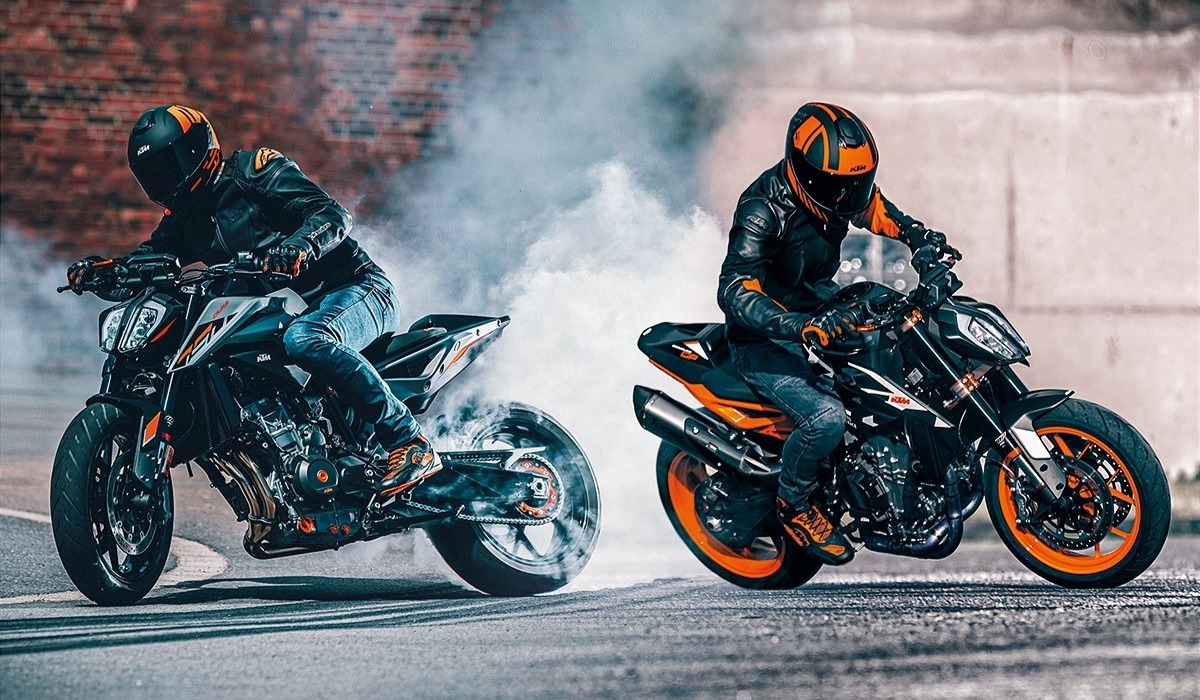 KTM introduces new decals and colour updates across the 2023 STREET range, allowing riders to find a machine that matches their true READY TO RACE colours.
KTM roars into the new year with a fast-as-ever brace of STREET motorcycles, covering the full spectrum of road-going machines catering to all riders and riding styles.
At the entry point, KTM brings the small but mighty KTM 125 DUKE and KTM 390 DUKE Naked machines out to play. These are flanked by the impressive new generation Supersport weapons in KTM RC 125 and KTM RC 390 guises.
Not to be outdone in the mid-weight class, the KTM 790 DUKE makes a re-appearance, with the KTM 890 DUKE GP bringing extreme attitude, and the KTM 890 DUKE R providing the class muscle.
For 2023, the range is updated with new premium hues taking their inspiration from the vibrant KTM 1290 SUPER DUKE RR prototype and Grand Prix teams.
KTM 790 DUKE
THE ORIGINAL SCALPEL slices back onto the scene as an A2 compatible entry point to the KTM mid-weight range, bringing its razor-sharp handling to the beginner segment. This decision comes off the back of a partnership agreement with Chinese manufacturer, CFMOTO, which sees the 790 cc powerplant continued. This means the 105 hp Naked machine will continue to fill a core gap in the market globally, with a dedicated 95 hp A2 compatible version taking on the streets in Europe.
KTM RC 125 / KTM RC 390
Both models in the KTM RC range receive the KTM GP orange treatment, complete with black exhaust. All 2023 KTM RC models also feature a dark-tinted screen as standard.
KTM 125 DUKE
THE SPAWN OF THE BEAST, the KTM 125 DUKE gets a fresh colour update, introducing a blue-on-white motif, accented by an orange tailpiece and striking orange wheels.
KTM 390 DUKE
The middle-weight CORNER ROCKET receives two new colourway updates: a vibrant orange and blue/grey option, and stealthy black and matt grey hue adding a darker, more sinister shadow to the streets.
KTM 890 DUKE GP
The KTM 890 DUKE GP introduces more black to the fray, with an eye-catching black-on-white colourway, set off by a striking orange subframe and orange wheels.
KTM 2023 LC4 RANGE
OWNING EVERY AVENUE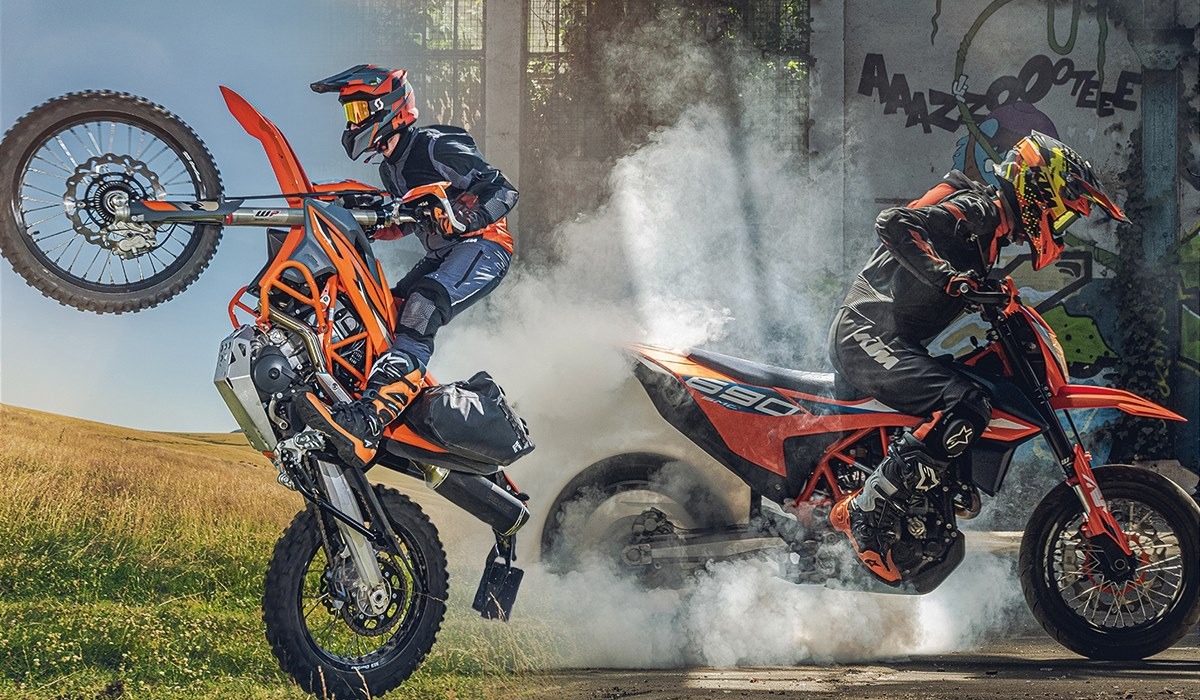 The KTM 690 ENDURO R and KTM 690 SMC R have been the class-toppers in their respective classes for over a decade. For 2023, that trend continues in typical KTM fashion, fuelled by a true READY TO RACE pedigree.
At the heart of both the KTM 690 ENDURO R and KTM 690 SMC R, lies the most powerful production single-cylinder engine available. With over 30 years of consistent development, the KTM LC4 has slowly morphed from a 553 cc race-spec engine in 1987 to the fully-fledged 693 cc machine it is today.
Not only has the LC4 stood the test of time, but it essentially created a segment unto itself. This has proven to be the ideal baseline for the KTM 690 range, paving the way for two of the most dominating motorcycles to leave the Mattighofen factory.
At the forefront of this powerplay is the KTM 690 ENDURO R. Having been the go-to dual sport machine for many years, it receives a few welcome updates for 2023. Now an even more astute enduro weapon, the KTM 690 ENDURO R offers no compromises when tackling hard enduro-type terrain, and easy, fast-flowing trails.
This is perfectly displayed by Dakar racing expert Xavier de Soultrait in his recent victory at the Transanatolia Rally."I wanted to challenge myself on the 7-day Transanatolia Rally by racing it with a production machine. The KTM 690 ENDURO R was up to the challenge, and to my surprise, I won the overall bike category. In some sections, I found the KTM 690 ENDURO R was faster than some of my older Rally bikes, with it performing perfectly. The KTM 690 ENDURO R is the ideal weapon for fast-paced and flowing trails, easily capable of holding its own in the Rally world."
Not to be outdone, the utterly ballistic KTM 690 SMC R has been the slide-king for adrenaline-hunting canyon carvers for decades. Built to be thrashed around twisty mountain roads and tear around race tracks, the KTM 690 SMC R has been the undisputed supermoto king for nearly as long as the wheelies it pulls off.
For 2023, both the KTM 690 ENDURO R and KTM 690 SMC R sport a simple but effective LCD screen providing riders with information like speed, RPM, and an array of essential warning lights. The dashboard's slimline design also means the line of sight forward is clear of any obstructions.
Likewise, both LC4 machines benefit from Cornering ABS, which allows riders to use full braking power in all conditions, even at big lean angles. This is supported by Offroad ABS on the KTM 690 ENDURO R which reduces ABS efficiency on the front wheel but completely disables ABS on the rear, allowing riders to lock up the rear into a tight turn.
Supermoto ABS replaces this feature on the KTM 690 SMC R, which quite literally pulls out all the stops. When activated, ABS is also reduced on the front wheel and completely disabled on the rear, allowing for big drifts into corners and tyre-smoking powerslides out of the apex.
Both machines also receive enhanced CTG and seat treatment, with the KTM 690 ENDURO R taking its styling cues from the competition Enduro range. The KTM 690 SMC R brings an all-new blue and orange adornment to the fray, boosting its overall premium appeal.
Lastly, both machines sport EURO 5-compliant exhaust systems made from precisely engineered high-quality stainless steel. However, thanks in part to KTM's global networks of dealers, the added availability of dedicated KTM PowerWear and KTM PowerParts have been designed to allow for the highest levels of performance, protection, and mobility.
The latest generation of LC4-powered machines offers versatility with a truly unique riding experience. With each model presenting ideal unique arguments for different riding styles, they bring together a dynamic combination of race-bred performance, ergonomics, and technology ready to truly tackle any terrain.
REVISED, REWORKED AND READY TO RACE
THE KTM RC 8C IS FIRED-UP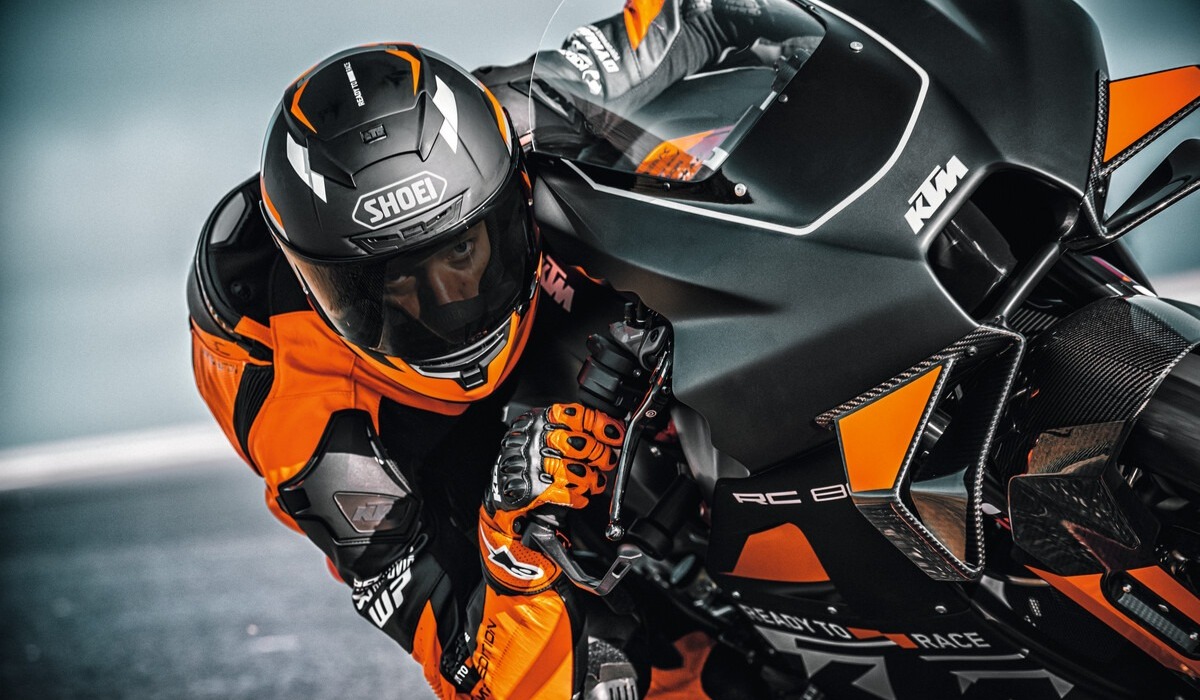 Fast and competitive riders spoke and KTM listened. The KTM RC 8C, a purposeful, hand-built, and specific 'tool' for the track was created last year. For 2023 the company have reset the dials. The new model has been overhauled and the spec sheet has been held to the grindstone for an even sharper 'READY TO RACE' profile.
The second generation of the KTM RC 8C required much more than a fresh coat of paint and a tweak to the aero package. As motorcyclists and racers quickly embraced the concept, KTM once more got excited about raising performance thresholds. The result is that the 2023 version boasts a radically evolved LC8c engine, molded specifically for the circuit, upgraded electronic features, even more weight-saving solutions and a raft of high-end components that ensure the bike's competitiveness.
Performance, durability, and all-out capability: these were the central priorities for the dedicated KTM R&D crew for the 2023 KTM RC 8C. The increase of 7 hp for maximum power of 135 hp at 11,000 RPM (with torque flushing 98 Nm at 8,250 RPM) was achieved by mods like the installation of new, lighter titanium values and conrods, as well as two piston rings (to refine the oscillating masses), higher compression ratios, a bigger throttle body and a bolstered fuel pump/pressure. Increasing the clutch preload, removing the top balancer, and adjusting the crankcase balancer shaft have delivered durability gains and an additional PANKL oil cooler helps with thermal stability.
The 2023 KTM RC 8C's dry weight has been optimized to just 142 kg and with the superb agility of the CrMo4 steel frame gives a prototype vibe to successfully attack the inside lines against any superbike. Measures such as the brand-new titanium Akrapovic exhaust system have helped the slimming, but the rapier feel has been augmented by enhanced settings from the very latest configurations of WP PRO COMPONENTS. The WP APEX PRO fork and shock are now softer; elevating comfort, contact and confidence.
Working again with Krämer Motorcycles for fabrication, the 2023 KTM RC 8C is now one of the company's clearest racing expressions: full of capability and intent. Whether a rider is the next Brad Binder seeking training mileage or the next Red Bull MotoGP rookie on the path to Grand Prix stardom, the refined electronics mean that any setting of traction control, mapping and engine braking can fettle the 2023 KTM RC 8C to match the level of ability (or ambition). The race bike can be primed in a number of ways; from the adjustable steering head to the offset of the CNC-machine triple clamps, the throttle response and degree of bite from the unbeatable Brembo Stylema calipers and RCS19 Corsa Corta master cylinder.
A revamped dashboard with GPS data-logger will flash-up the lap-record attempts while the KTM RC16 derived handlebar switches put the rider's left thumb in full control while the left foot hammers through the reverse pattern of the race QUICKSHIFTER+.
For the final reminder that the 2023 KTM RC 8C is for racers and born from a company with racing at its very soul, the use of winglets and aerodynamics is a direct correlation to the successful MotoGP™ program where the KTM RC16 has won seven Grands Prix in only six years of presence on the premier class grid. Downforce and efficiency under braking and acceleration are some of the gains. If rivals and observers are quick enough to catch the 2023 iteration of the KTM RC 8C then they can only be impressed by the menacing black shade, which speaks 'speed' and 'exclusivity'. The project in a nutshell.
To get the wheels rolling in the best and quickest way, the official 'handover' of the 2023 KTM RC 8C will be toasted with an ultra-special track day for 30 customers at the Circuito Ricardo Tormo in Valencia on April 26th. Select, first-come, first-served places can be secured with former Grand Prix riders offering track tuition and a full KTM and WP Suspension technical crew on hand to dial-in the configuration of the new bike to the 14-corner Grand Prix venue. Accommodation, food, bike transportation logistics from Austria to Spain and then to local dealers is all taken care of. This is the full factory racer experience!
2023 KTM RC 8C technical highlights
// Revised LC8c DOHC inline twin cylinder engine with titanium components and 7 hp performance increase to 135 hp at 11,000 RPM
// Adjustable throttle response, traction/launch/anti-wheelie control and engine braking adjustment
// New titanium Akrapovic exhaust system helping contribute to light 142 kg dry weight
// Fresh WP PRO COMPONENTS hardware and new settings for optimized feel and stability at higher performance levels
// High quality Brembo brake system Stylema and Corsa Costa master cylinder
// Racing parts: Rims, chain, carbon front fender, CNC triple clamp, handlebar switches, new AIM tacho dashboard, race gearbox shifting patten, air box and air filter and parts prone to crash damage can be quickly replaced
// KTM RC16-derived aerodynamics and razor shape black graphics with distinctive orange frame
// Pirelli Diablo racing tires