Model Description
The 2024 EE 3 is the perfect machine for introducing young riders into the exciting world of offroad riding. Powered by a state-of-the-art electric motor capable of producing 3.8 kW of peak power, the EE 3 is expertly assembled with a chromium molybdenum frame, WP suspension, and high quality components. With six ride modes, customisable ergonomics thanks to an adjustable seat height, the EE 3 allows riders to increase their confidence as they grow, learning the fundamentals of riding offroad in a safe and controllable manner. Additionally, the pioneering EE 3 produces next to no sound, which makes it perfect for riding in areas sensitive to sound emissions.
ELECTRIC MOTOR
Producing a peak power output of 3.8 kW, the permanent magnet, electric motor is incredibly compact, slim, and designed specifically for the EE 3 chassis. The air-cooled, water and dust proof motor requires next to no maintenance and features an Electronic Control Unit (ECU) for instant, controllable power.
BATTERY
Creating power for the electric motor in the EE 3 are 60 modern lithium ion cells, which are safely housed inside a robust die-cast aluminium casing. These cells store 648 Wh of energy that equates to approximately two hours of general riding or 30 minutes of fast-paced action.
CHARGER
The external worldwide charger on the EE 3 can be connected to any 110 or 230 Volt socket for fast and easy recharging. Plugging directly into the battery pack, an 80% charge can be achieved in just 30 minutes while a full recharge takes up to 60 minutes.
MULTIFUNCTION INSTRUMENT
Perfectly located just in front of the seat and displaying essential information is a multifunctional instrument. Featuring a button that allows the rider to toggle through six ride mode options, which can be selected based on either the experience of the rider or track conditions, the remaining battery charge is clearly visible at a glance.
SAFETY
Should a fall or tip over occur, the EE 3 is fitted with a roll-over sensor that immediately cuts power. Should the rider lose control, a wrist lanyard key provides an extra layer of safety. Additionally, ride modes can be saved or 'locked' with a dongle located below the seat to prevent younger riders from inadvertently activating more powerful ride modes.
ADJUSTABLE SEAT HEIGHT
An adjustable seat height allows young riders to progress with the EE 3 as they grow. The standard seat height is 600 mm can be lowered to 555 mm quickly and easily in three steps – lower the seat, relocate the mounting position of the rear shock, and moving the forks up through the triple clamps.
FRAME
A high-strength chromium molybdenum steel frame houses the electric drivetrain and is expertly assembled with calculated parameters of longitudinal flex and torsional rigidity. This creates a light feeling chassis and enhances the suspension functionality for precise cornering and outstanding stability.
SUSPENSION
The EE 3 is fitted with WP suspension for exceptional damping. On the front, lightweight WP XACT 35 mm forks offer a plush feel and 144 mm of travel. A WP monoshock provides 133 mm of travel and comfort on rough terrain.
WHEELS AND BRAKES
Inline with the entire Husqvarna Motorcycles motocross range, the EE 3 uses lightweight, black anodised, 10"aluminium rims that provide the highest levels of strength and reliability. The wheels are fitted with MAXXIS MX-ST tyres as they ensure straight-line stability and excellent traction on a variety of different surfaces. Additionally, hydraulic brakes with waved discs provide controllable stopping power.
HANDLEBAR
Tapered NEKEN handlebars are made from high quality aluminium and are designed to be strong and stable. With a slim, 18 mm diameter in the grip area, youngsters can enjoy total control on the EE 3 with ODI lock-on grips providing comfort. A cushioning handlebar pad protects the rider during a fall or unexpected impacts.
BODYWORK
The bodywork on the EE 3 is designed to be slim and unrestrictive with modern ergonomics. This enhances control, particularly when accelerating and braking, and allows riders to perform at their best for extended periods of time.
GRAPHICS
Setting itself apart from the 2-stroke models in the minicycle range, the EE 3 is complete with a striking blue and white appearance to signify its electric drive. The distinctive look is created using in-mold technology where the graphics are applied beneath the surface of the bodywork for a durable, premium finish.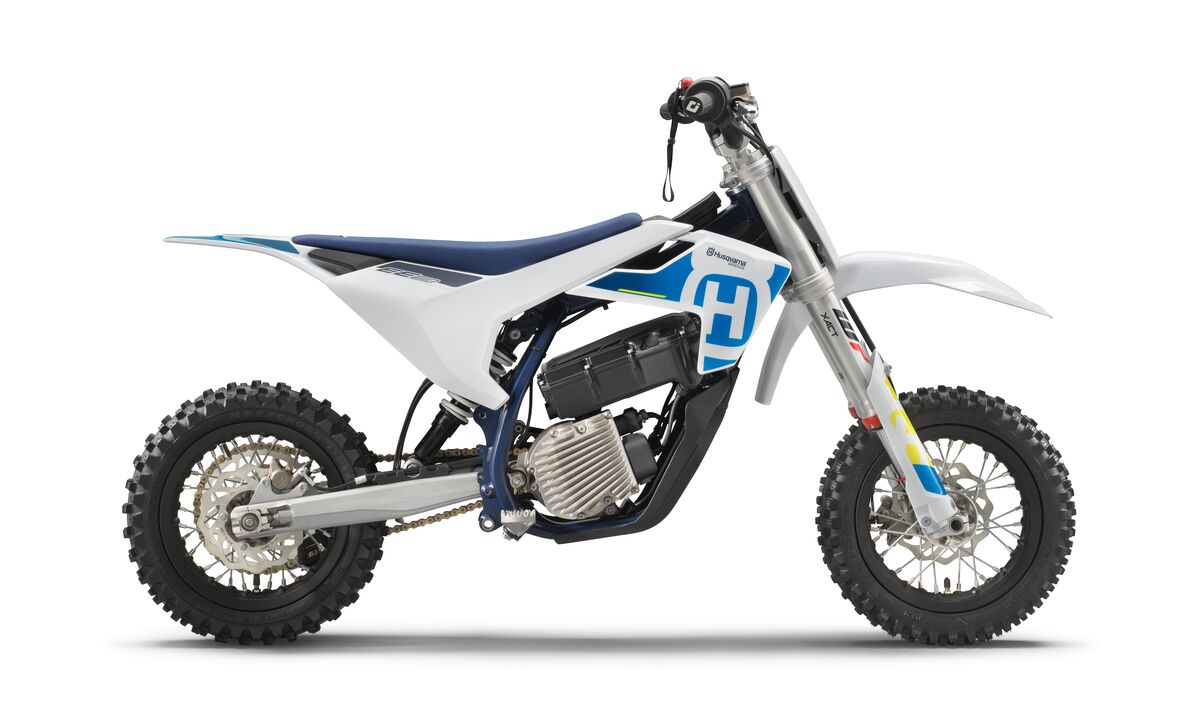 Brand Name
Product Name
Price
Product Availability